How Can The Litchi Fruit Help Chronic Kidney Disease Stage 4
2014-05-03 01:57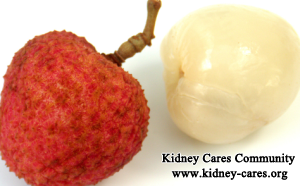 Stage 4 Chronic Kidney Disease (CKD) patients should follow a healthy diet so as not to worsen their health condition. Litchi is a highly rich nutrient fruits. However, due to limitation of kidney diet, is litchi helpful for CKD stage 4 patients?
The following we are going to introduce is some healthy benefits of litchi. And because of these healthy benefits, litchi fruit can help CKD stage 4 patients.
1. Increase immunity
Lychee is an excellent source of vitamin C. With a high amount of vitamin C and an antioxidant, it increases immune system function. It increases immunity to protect against common diseases like cough, cold and flu. Also vitamin C increases immune system function to protect from infections. Infection is able to cause kidney disease. Thus, immunity ncrease will reduce the risk of kidney disease indirectly.
2. Prevent high blood pressure
One of the common cause and symptom of kidney disease is high blood pressure. It was found that antioxidants in lychee lower blood pressure. Besides, potassium is also high in lychee. Potassium is required to maintain sodium level. Also high potassium level is able to maintain fluid level, which serves as balancing electrolytes. Thus, it helps to maintain high blood pressure and it reduces the risk of stroke and heart attack. Also it contains other minerals like manganese, magnesium, iron, copper and folate that maintain blood pressure.
3. Protect heart
Litchi is rich in dietary fiber which proves best nutrient that promote cardiovascular health. Also litchi is able to reduce bad cholesterol and increase good cholesterol level in blood. In this way, it improves the blood flow towards the heart and thus it helps reduce the risk of heart attack, stroke and hypertension.
All these three aspects of lychee are good for stage 4 chronic kidney disease patients. However, it does not mean all kidney disease patients can eat litchi. If a person with kidney disease has high potassium level, he should limit litchi intake or avoid it due to its great source of potassium in lychee. Overall, you should decide whether to eat litchi or not according to your own specific conditions.