Potential Symptoms of Renal Duplication
2012-10-27 10:01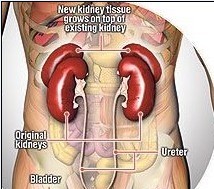 Renal duplication is the common congenital abnormality of kidney and ureter with morbidity 15000:1. And also, unilateral deformity is more common than bilateral deformity. People with renal duplication may experience no symptoms and in such a case, no medical treatment is needed. However, for some patients, because serious abnormality of kidney or ureter, they are very likely to experience the following symptoms:
1. Enuresis
Enuresis is more common among renal duplication patients who have two ureter and meanwhile, one of the ureters leads to vagina or vulvar vestibule. With enuresis symptom, patients still have normal urination. Therefore, if anyone with renal duplication found they have enuresis symptom, they can do medical examination to confirm whether they have abnormal ureter. Besides, enuresis symptom usually occurs in female patients.
2. Kidney stone symptoms
Kidney stone is formed easily in renal duplication. Once kidney stone is formed, patients may found they have abnormal urination, back pain, odynuria, fever and blood urine.
3. Hydronephrosis
Because of abnormal ureter and kidney, fluid may not be discharged fully and effectively, as a result of which, hydronephrosis is formed easily.
4. Urinary tract infection
When urinary tract infection occurs, corresponding medications need to be given and if patients have no other symptoms, but urinary traction infection, surgery is not necessary. However, if urinary traction infection is accompanied by other symptoms like blood urine, back pain, and serious hydronephrosis, surgery can be adopted to cut off one kidney or one ureter.
The above are the common symptoms for real duplication patients and can be caused directly by renal duplication. In different cases, patients may suffer from different symptoms because of different illness conditions and with different severity, patients may need different medical management. No matter how, renal duplication is a kind of kidney abnormality and once abnormal feeling or symptom occur, going to hospital is necessary.