Purpura Nephritis Is Treated Well By Chinese Medicine Treatment
2016-02-26 03:19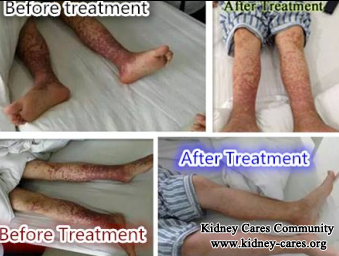 Recently our hospital accepts a Purpura Nephritis patient. He has severe red spots in his legs. After our Chinese Medicine Treatment, red spots in his legs disappear naturally. Now let's see how our Chinese medicines treat Purpura Nephritis.
Purpura Nephritis in our hospital is mainly treated by Micro-Chinese Medicine Osmotherapy. Micro-Chinese Medicine Osmotherapy treats Purpura Nephritis with the following properties:
1. Dilate blood vessels
In Purpura Nephritis, immune complexes depositing in the glomerular capillary can make cells hypoxic and ischemic. The Chinese medicines in Micro-Chinese Medicine Osmotherapy can expand blood vessels, which can improve blood circulation and increase blood flow so as to relieve hypoxia and anoxia state. This can also create a nice environment for repairing kidney cells.
2. Prevent coagulation
The increase in inflammatory cells in blood can increase the viscosity of blood to some extent. In this condition, the microthrombus of glomerular capillary can be caused so you need to take some anti-coagulatant drugs.
3. Stop inflammation
Chinese medicines are effective in anti-inflammation. The purpose is to reduce the infiltration of inflammatory cells and avoid further damage on mesangial cells.
4. Degrade
Another important function of Micro-Chinese Medicine Osmotherapy is to discharge immune complexes out of your body depositing on your kidneys. This can avoid further kidney damage and other organs. Western medicines can not do this.
Our Micro-Chinese Medicine Osmotherapy can also regulate abnormal immune system and improve your renal function. His red spots in legs disappear naturally after our Chinese Medicine treatments. We also other effective Chinese medicines like Medicated Bath, Mai Kang Mixture, Foot Bath Therapy and Cycle Therapy, etc. They are all good for kidney recovery.
Our Treatment Effect
Move the mouse to enlarge the picture
This patient suffers from Purpura Nephritis and has many red spots in his legs before our treatment. After our Chinese medicine treatments, he got great improvement. His red spots disappeared. See the effect from the above pictures.