Will Purpura Cause Feet Swelling
2013-07-08 15:55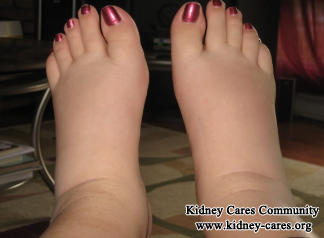 Will purpura cause feet swelling? I have purpura and recently my feet become swollen. Why is this? This is the question from one of my Facebook friends. Purpura is purple-colored spots and patches that occur on the skin, organs and in mucus membranes, including the lining of the mouth. Usually, it causes no feet swelling symptom until kidneys are damaged.
Will purpura cause feet swelling?
Kidney disease caused by purpura can be called Purpura Nephritis which can progresses to kidney failure if left alone. Purpura nephritis is a complication of purpura and may cause swelling of the feet, hands, legs, arms, face and eyelid and even the whole body.
How does purpura nephritis cause feet swelling?
Purpura nephritis is a kidney problem secondary to purpura. Kidney is a organ with function of excretion of excess fluid, wastes and excess electrolyte, regulation of blood pressure, secretion of hormone and enzyme and so on. In normal condition, excessive fluid and sodium can be discharged through kidneys and when kidney function is affected, they build up in the body which can cause feet swelling.
What to do with purpura and feet swelling?
For patients with purpura, if they found their feet become swollen, they should be alert about kidney problem. In that condition what they need to do are:
1. Go to doctors for examination to see if their kidney function is affected. For detailed information about tests for purpura nephritis, please leave message to kidneycares@hotmail.com or consult our on-line doctors.
2. If they suffer from feet swelling due to purpura nephritis, diet changes will be needed. As for the dietary principles, low-protein diet, low-salt diet, low-potassium diet and low-phosphorus diet are suggested.
3. Limit fluid intake. High fluid intake will increase kidney burden and worsen illness condition. Therefore, limiting fluid intake is necessary.
4. Go to effective treatment to protect residual kidney function. Many Chinese herbs like Dandelion, Lei Gong Teng, Cranberry and Milk Thistle can be used to strengthen kidney function. (Please do not use these herbs without the permission of doctors as improper usage will cause severe side effects)
5. Repair injured kidney intrinsic cells to improve kidney function. As for the method that can be used to repair injured kidney cells, Micro-Chinese Medicine Osmotherapy is highly recommended. (watch video about Micro-Chinese Medicine Osmotherapy)
The above are the related information and guidance for purpura patients with feet swelling. If there is anything unclear or you have further questions, please leave us message directly in the below.
Our Treatment Effect
Move the mouse to enlarge the picture
This patient suffers from Purpura Nephritis and has many red spots in his legs before our treatment. After our Chinese medicine treatments, he got great improvement. His red spots disappeared. See the effect from the above pictures.