Can Purpura Nephritis Patients Take Hemp Seeds
2015-07-31 08:33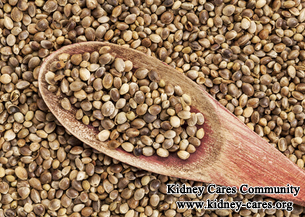 Can Purpura Nephritis patients take hemp seeds? Patients with Purpura Nephritis or other kinds of kidney disease should pay much attention to their diet. In fact, hemp seeds are a very nutritious food and here are some of the health benefits that you can gain by adding hemp seeds to the diet.
1. Strengthen immune system
Hemp seeds contain omega-3 fatty acids that keep a healthy heart and contributes to the general strengthening of the immune system. With strong immunity, bacteria and virus can be defeated and further damage to the body can be reduced. Thus, it is important for Purpura Nephritis to use hemp seeds to boost their immune system.
2. Fight bad cholesterol
Hemp seeds can break down cholesterol as well as prevent problems caused by high cholesterol, including blood clotting.
3. Prevent heart disease
Heart disease is a leading cause of death in people with kidney disease. Hemp seed's fat profile is believed to prevent a variety of heart conditions. The high levels of α-linolenic acid in hemp seeds may have favorable nutritional implications and beneficial physiological effects on the prevention of coronary heart disease.
4. Reduce inflammation
Inflammation prevention is able to stop relapse of Purpura Nephritis. Hemp seeds contain a variety of plant sterols and alcohols that are known to reduce inflammation, which is a factor in a wide range of diseases.
5. Manage diabetes
Diabetes can raise your risk of kidney failure. Hemp seeds can control your blood sugar levels because its healthy fats help in the quick absorption of glucose from the bloodstream and its conversion into energy.
Can purpura nephritis patients take hemp seeds? Yes, they can. However, not everyone can take hemp seeds. If used improperly, they can cause side effects. Therefore, you had better consult your doctor before you add them to your diet.
Our Treatment Effect
Move the mouse to enlarge the picture
This patient suffers from Purpura Nephritis and has many red spots in his legs before our treatment. After our Chinese medicine treatments, he got great improvement. His red spots disappeared. See the effect from the above pictures.