Toxin-Removing Treatment for PKD Patient From Iraq
2017-06-23 08:27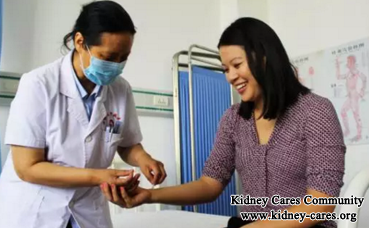 A PKD patient from Iraq comes to our hospital for treatment. The treatment we give her is Toxin-Removing Treatment. The therapeutic effect is good.
Treatment in Iraq
Her medical report showed high blood pressure and high creatinine level 270umol/L. After the conversation with FATIMA, we knew that there was no good way to treat her disease in Iraq. The doctor just prescribed some hypotensive drugs to control her blood pressure. However, once it develops into kidney failure, dialysis will be recommended.
FATIMA did not want to take dialysis like her mother. So she started to find alternative way for PKD on Internet. Through internet, she found our hospital and was attracted by our unique Chinese medicine treatments. She decided to come for a try.
Treatment in our hospital
When FATIMA came to our hospital, we first diagnosed her condition clearly. Her medical reports showed both her kidneys had kidney cysts with kidney stone. Creatinine was 303umol/L. She was very tired every day and had swollen abdomen.
High blood pressure is mainly caused by kidney cysts in PKD oppressing the normal kidney tissues. This can cause kidney anoxia and ischemia as well as hypoperfusion. If high blood pressure can not be controlled timely, further kidney damage will be caused, leading to serious kidney fibrosis and increased serum creatinine level. Besides, worsening kidney condition will elevate your blood pressure again. This can cause heart enlargement and heart failure. Some patients' illness condition may develop rapidly to kidney failure, finally causing uremia. This is the reason why you still have high blood pressure even if you take medicines.
Toxin-Removing Treatment with hypotensive drugs
As for her condition, we first use hypotensive drugs to control her high blood pressure. The key treatment we give FATIMA is Toxin-Removing Treatment including Foot Bath, Medicated Bath, Medicinal Soup, Micro-Chinese Medicine Osmotherapy and Moxibustion Therapy, etc. These therapies can improve blood environment to pave a good way for medicine application, open the meridians for the whole body, which can make lots of toxins discharged from your body. Moreover, our therapies can shrink kidney cysts and stop the growth of kidney cysts, which can stop oppressing your kidney tissues and improving your renal function gradually.
After a period of treatment, she could cook herself and did not feel tired. Difficult breath disappeared. Anemia went away. Creatinine level was reduced and blood pressure was also stable.
FATIMA said "I am very luck to know doctor Yang and she let me know there is a good treatment for PKD. Thank you very much".
If you are interested in our Chinese medicine treatments, you can leave a message below or consult our online doctor directly.