Enlarged Kidney In PKD Can Be Shrunk By Chinese Medicine Treatment
2017-03-24 03:26
We all know kidney cysts in PKD will enlarge. The enlarged cysts will also make your kidney become larger than healthy one. Here, in our hospital, enlarged kidney can be smaller with Chinese medicine treatments.
Take a successful example to prove this.
A PKD patient comes to our hospital for treatment. After admission, we first give him a thorough check up. Kidney size is larger due to kidney cysts but other indexes are normal. His right kidney size is 178*88*70mm and the left kidney size is 189*97*88mm. The normal kidney size is 10-12cm so we can see his kidney now is very large. The B-ultrosound shows polycystic liver, polycystic kidney and kidney stones in both kidneys.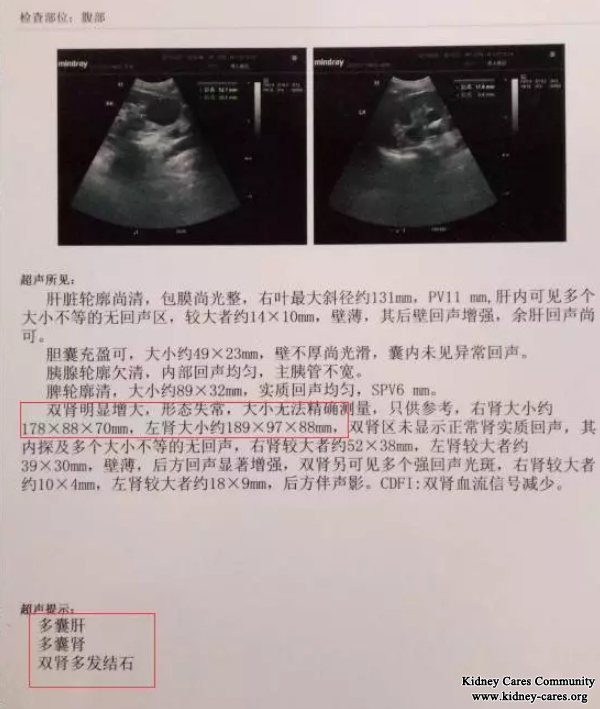 This patient does not want to take operation while he would like to take natural Chinese Medicine treatments.
According to his requirements, our experts discuss his condition and finally give him a systematic Chinese medicine therapy including oral Chinese Medicine Soup, Mai Kang Mixture, Hot Compress Therapy, Medicated Foot Bath and Micro-Chinese Medicine Osmotherapy to inhibit the growth of kidney cysts, inactivate epithelial cells of cysts and speed up the excretion of cystic fluid. These functions can help shrink kidney cysts.
After 10 days of Chinese medicine treatments, kidney cysts are shrunk obviously. At this time, his B-ultrosound reports show right kidney size is 161*80*74mm and left kidney size is 170*93*81mm. Also his enlarged kidney is also smaller than before.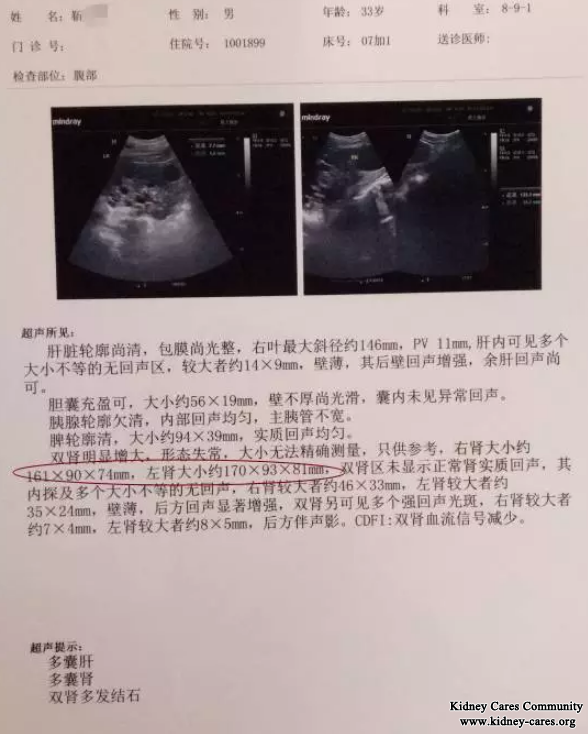 He has left our hospital and gone home. We also hope other kidney patients can find proper treatment for their condition earlier. At the same time, you need to obey the doctor's order and follow a reasonable diet.