How To Shrink Kidney Cysts In PKD
2016-12-18 03:50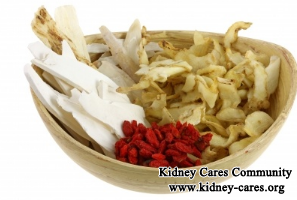 Polycystic Kidney Disease (PKD) is a genetic kidney disease and kidney cysts will enlarge with the progression of your condition. Well then, how to shrink kidney cysts in PKD?
There are two types of kidney cyst.
Generally speaking, the kidney cyst refers to simple kidney cyst while hereditary kidney cyst is PKD. PKD accounts for a relatively small percentage.
The difference between simple kidney cyst and PKD.
It is important to know their difference. Most patients will ask that my kidney cyst is 5cm or my creatinine level is 200. What should I do? You should know the kidney cyst is simple or polycystic. If you do not know it, this may bring you some trouble.
The number of kidney cyst is less. Some are single kidney cyst and some have 2 or 4 kidney cysts. Generally your condition is not so severe and it is not inherited.
There are numerous cysts in PKD. Your whole kidneys are surrounded by kidney cysts. In most case, the condition is severe and also it is hereditary.
Can kidney cyst be treated?
If you go to western medicine, the doctor will tell you it is enough to take an examination every half year. When your kidney cysts are large enough or affect your kidney function, you need to take operation to cut the large kidney cysts.
What will happen after operation? Small kidney cysts will continue to grow. This is not a good treatment. Western medicines can not shrink your kidney cysts. Therefore, more patients will put their eyes on Chinese medicines? Can Chinese medicines prevent their growth or shrink them?
According to our clinical experience, Chinese medicines are effective in shrinking kidney cysts. On one hand, Chinese medicines can inhibit the activity of lining cells in cystic wall. On the other hand, they can expand blood vessels of cystic wall, discharge cystic fluid and shrink kidney cysts. There are many unique Chinese medicine treatments for PKD in our hospital like Micro-Chinese Medicine Osmotherapy, Oral Chinese Medicine Soup, Acupoint Application, Foot Bath Therapy, Medicated Full Bath and Steaming Therapy. These therapies can cleanse toxins from your blood, shrink your kidney cysts and reduce pressure in kidney cysts.
If you have any question, you can leave a message below or consult our online doctor. We will reply you as soon as possible.