Are You Headed For Kidney Failure If You Have PKD
2015-12-07 07:58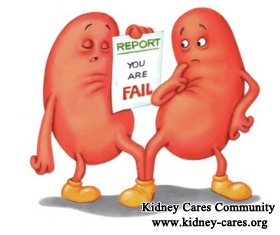 Are you headed for kidney failure if you have polycystic kidney disease (PKD)? As for this question, I am sure the answer is Yes if no effective treatment is adopted. Well, how does PKD cause kidney failure?
Polycystic kidney disease is a disease in which multiple cysts grow in the kidneys due to gene mutation. The size and number of kidney cysts will increase with time going on. As a result, these fluid-filled kidney cysts will occupy much space in the kidneys, which will oppress and replace normal kidney intrinsic cells and tissues. Injured kidney tissues will gradually decrease kidney function and eventually kidney failure occurs with no effective treatment.
Of course, kidney failure can be postponed or avoided from the following ways:
1. Early detection and diagnosis
We know that PKD has the characteristic of familial aggregation. Therefore, if there is someone in your family who has PKD, you should do renal imaging tests such as B ultrasound, CT or MRI to rule out the possibility. Prenatal gene diagnosis can know in advance if the baby will develop PKD after she or he is born and this will increase the risk of prepotency rate.
2. Control its symptoms and complications
Many patients with PKD die of cardiovascular complications and infections instead of kidney failure itself. Thus, it is important to prevent and control its symptoms and complications.
3. Follow a kidney-friendly diet
People with kidney disease will generally be told that they should follow a kidney diet. The renal diet will likely limit protein, sodium, and perhaps potassium and phosphorus. It may be difficult, however, the kidney diet is designed to keep you healthy and possibly slow the progression of kidney disease.
4. Shrink kidney cysts
One important aspect for postponing kidney failure in PKD is to shrink kidney cyst and control its growth which is the root cause of kidney failure. Currently there is one external application of Chinese medicines called Micro-Chinese Medicine Osmotherapy which has obvious effect on shrinking kidney cysts and slowing down its growth.
Are you headed for kidney failure if you have PKD? If effective treatment is adopted, kidney failure can be delayed or avoided. Any question, you can leave us a message below or kidneycares@hotmail.com. We are glad to help you.