Cupping Therapy For Back Pain In PKD
2015-09-29 02:30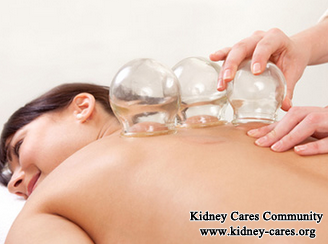 Back pain is a common complication in polycystic kidney disease (PKD). Aside from painkillers, patients prefer natural treatment for relieving back pain. Cupping therapy is one of the natural treatment in Chinese Medicine Treatment. Well then, how does cupping therapy treat back pain in PKD?
Cupping therapy and back pain
Cupping therapy is a very effective and safe treatment for back pain. Cupping is able to loosen stiff muscles, unblock pinched nerves and unbind myofascial adhesions. The cup is quickly placed on the patient's back, shoulders, hips or legs. This suction draws the blood to the surface and helps to relax tight and bound muscle tissue. This therapy is good for when there is a lot of stagnant blood and qi.
Usually cupping is used together with acupuncture and massage to increase the muscle relaxing and pain relieving effects of each of these treatments. When used together, these three treatments can provide powerful pain relief.
Cupping therapy and kidney health
Besides, cupping therapy can also promote blood circulation and regulate qi-blood. In this way, more blood and oxygen are transported to the kidney. This helps promote kidney health.
Cupping therapy and toxins removal
cupping therapy can draw out toxins out of the blood. The strong suction of cupping will eliminate toxins from the body. This can help cleanse the blood and provide a good internal environment of kidney recovery.
Cupping therapy and high blood pressure
High blood pressure is a common complication in polycystic kidney. If left untreated, it can cause further kidney damage and speed up the progression of kidney disease easily. Cupping therapy is effective in treating high blood pressure.
Although cupping therapy has many health benefits for PKD patients, not all patients can take cupping therapy. Patients with heart disease, skin disease, children and pregnancy had better not use cupping therapy. They can try our other natural therapies like medicated bath, foot bath, Mai Kang Mixture and Steaming therapy, etc. These therapies all help PKD patients effectively.