What Herbal Medicine Would You Recommend For PKD
2015-04-28 08:01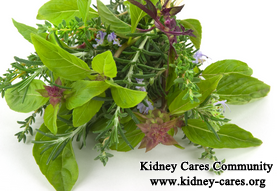 Compared with surgery, most polycystic kidney disease (PKD) patients would like to take herbal medicine to shrink their kidney cysts naturally. Well, what herbal medicines would be recommended for PKD?
We have known that proliferation of epithelial cells cause cyst and it constantly secretes fluid, so cysts will enlarge and oppress other part of kidney, finally kidneys fail to work. Some herbs have been proven to have the function of treating kidney cysts.
1. Control the proliferation of epithelial cell. In this way the new cysts will not appear and the cysts can stop growth.
2. Improve the vascular and renal tubule permeability as well as improve the blood circulation in capillaries. The pressure between capillaries and cyst changes, and fluid can be reabsorbed by capillaries. Kidney cysts can be shrunk in volume and the pressure for other nephrons can be reduced. Other nephrons can recover some function again.
3. After blood circulation in kidneys is improved, glomerulus and renal tubular can get more nutrition and oxygen. It is good for kidney cells to repair.
4. Some herbs can inhibit the proliferation of fibroblast, stimulate the c-myc, which can lead to fibroblast apoptosis.
5. When kidneys are injured, a large amount of extracellular matrix has been produced, which can stimulate the proliferation of fibroblast. Some herbs have the function of degrading extracellular matrix, so they can help block fibrosis.
Since we have known the reason and progress of polycystic kidney disease, according to different herb's function and patients' condition, some herbs can be applied to treat this disease from cyst stage and prevent the fibrosis progress at the beginning and block the fibrosis in every step.
Apart from herbal medicine treatment, a healthy lifestyle is also important for PKD patients to control the symptoms and delay the progression of the disease. If you want to learn more information about PKD, you can leave a message to kidneycares@hotmail.com or consult our online doctor directly.