What Is The Treatment For Massive Blood In Urine In PKD
2015-03-15 03:18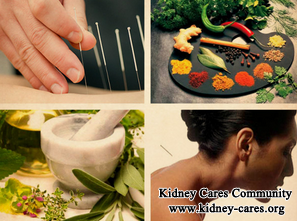 Massive Blood in urine in polycystic kidney disease (PKD) patients is very dangerous and it can cause many serious conditions, so it requires timely treatment. Well, what is the treatment for massive blood in urine?
1. Causes of massive blood in urine
Cyst rupture
If the cysts get burst and it is connected with urinary tract, it can cause blood in urine which can be seen with naked eyes. It is gross hematuria.
Renal capsule
With the enlargement of renal cysts, it can stretch the renal capsule and cause rupture of blood vessels on the cyst.
Generally hematuria can disappear after 2-7 days. If it lasts for a long time, it should be treated as soon as possible to prevent further damages to kidney functions.
2. Treatment for massive blood in urine
Since kidney cyst burst is a common cause of blood in urine, it is very necessary to prevent big cysts from bursting. For PKD patients with small cysts, Chinese medicines are recommended to stop the enlargement of kidney cyst. The active ingredients can stimulate lining cells and make them absorb more fluid. As a result, cystic fluid can be reduced and cysts can be shrunk. As for PKD with large cysts, they need to shrink kidney cyst and also avoid movement which need them to twist their waist and sports that may knock on their back.
Although PKD is incurable, we can take treatment to avoid further kidney damage and keep symptoms under control with Chinese medicines. If you want to know detailed information with Chinese medicines, you can email to kidneycares@hotmail.com or consult our online directly with your medical condition. We will reply you as soon as possible.