Does Niacinamide Help PKD Patients
2015-03-14 08:10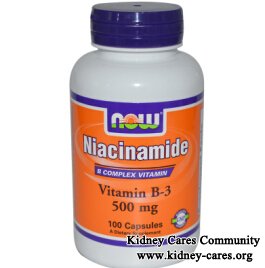 Niacinamide also known as nicotinamide, is a form of vitamin B3. It is involved in over 50 metabolic processes that are meant to turn carbohydrates into energy and it also plays an important role in other aspects. Therefore, it is an essential elements of our body. Does niacinamide help PKD patients? Of course, it can. Now let's have a further look at its health benefits.
-For PKD patients, their main concern is the growing cysts. Some researches show that niacinamide slow the creation of cysts and restore kidney function by inhibiting the activity of a protein called Sirt 1 that influences the formation and growth of cysts.
-High blood pressure is a typical symptom of PKD patients. Exposed to high blood pressure for long-term, blood vessels become fragile and get injured easily. Bad cholesterol in the blood may gather in such a place to form atherosclerotic plaque. Niacinamide decrease the LDL cholesterol and triglyceride levels and increases HDL cholesterol levels so as to prevent them from getting accumulated in the liver and on the arteries.
-When your kidney function impairs by PKD, it is likely for you to suffer from arthritis, because uric acid can not be removed out of the body timely. They may accumulate and deposit in the kidneys to cause joint inflammation. Niacinamide is anti-inflammatory, which makes it a proper treatment for arthritis.
-Niacinamide can also help you control blood sugar level, detoxify your blood, aid in fat metabolism, production of hydrochloric acid in the stomach and production of adrenal hormones, etc.
Does niacinamide help PKD patients? From the above, we can see that it really helps a lot, but it does not mean it is suitable for all PKD patients. Therefore, you had better talk with your doctor before you add it into your treatment plan.