A Man With PKD Come To China For Treatment
2015-03-04 09:49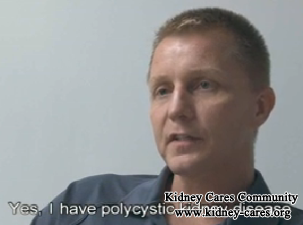 Walter Lanham from America and he is here for the treatment in China. He has polycystic kidney disease (PKD), a hereditary disease. Family members, uncle, father and grandmother all died in the past. His mother died last year. So he found about this hospital here and did research and our hospital has been really helpful. Therefore, he comes to our hospital for the treatment in China.
Treatment in China
Walter describes the treatment as below:
The treatment is easy. I am a little nervous with the needles and such like that. But they are very good about it. No pain. They told me the schedule and they stick to it very well. It is actually smooth and it is comforting.
Symptoms before and after
Walter is only half lost of the kidney function and he is not really bad as some of the patients here from around the world. Our hospital gives some serious very good treatment to these people. Before he does not really think he is gonna see any major effect till several months down the road because that is the rest of the treatment. The treatment goes on at home you do yourself compare to just 30 or sometimes 40 days here. He still has to continue afterwards and he will see better results
Comparison with other hospitals
Walter says it is hard because the other hospitals do not do this kind of approach. Other hospitals may do some stem cells but the cleaning of the blood is not addressed which I think it really should be addressed. He did some research on that. Then he studied that Austria has some studies on stem cells and other countries and show great promise. So he decided that his would be the best option
Advising to the hospital
Actually I just wanna thank everyone for making it nice. Any situation or information you need they will get it to you. I thank them because they are pretty much leading this department in the world. It is comforting to be able to find someone that may be able to actually change your life. That will affect your family members and the rest of you, just personality everything, it makes you feel great I wanna thank them for that because not everyone is doing it. It is risky so they are doing a very good job.