High Blood Pressure Caused By PKD: How To Treat It
2014-09-01 08:46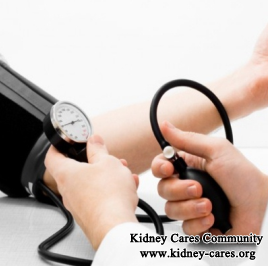 How to treat high blood pressure caused by polycystic kidney disease (PKD)? When PKD patients show high blood pressure, it is a clinical symptom of the patient's condition worsened. High blood pressure can cause damages on kidneys, so it is urgent to bring hypertension under control. How to lower high blood pressure in PKD? Read through the passage and you will find the answer.
1. How does high blood pressure occur in PKD?
The occurrence of high blood pressure is caused by the enlargement of kidney cysts, which will oppress the normal kidney tissues and kidney blood vessels. This leads to insufficient blood for kidneys and blood vessels. Besides, cysts become more and more and enlarged, which will oppress some blood vessels in kidneys. In this condition, it makes part of blood flow reduced. Renin will also be increased and then angiotensin concentration is elevated, thus causing vasoconstriction and high blood pressure. It is a vicious circle between high blood pressure and renal function.
2. What is the treatment for lowering high blood pressure?
Once PKD patients have high blood pressure, it indicates that kidney function has been damaged or will be damaged in the near future. Renal hypertension induced by PKD is different from primary high blood pressure. As for hypertension in PKD, the core therapy for high blood pressure is to treat PKD, reduce the pressure between inside and outside the cysts, relieve the oppression of cysts to renal parenchyma so as to delay or block the progress of renal fibrosis. Only in this way can treat high blood pressure from the root. Chinese medicine can shrink kidney cysts to reduce damages on kidney tissues.
3. Chinese medicine to shrink kidney cysts
The effective ingredients in Chinese medicine can dilate blood vessels and improve whole blood circulation to treat PKD. Chinese medicine has the functions of expanding renal artery to increase blood flow in kidneys, improving whole body's microcirculation to supply more oxygen and increase permeability of lining cells as well as meanwhile inhibit cystic wall from secreting cystic fluid. This will shrink kidney cysts from the root. Besides, active substances in Chinese medicine can relieve oppression of cysts on surrounding kidney tissues, ease renal ischemia and hypoxia. This not only lowers high blood pressure but also makes blood vessels flexible.
The important property of Chinese Medicine is to restore kidney damage and rebuild kidney structure. Only in this way can related symptoms be alleviated effectively.