Can Polycystic Kidney Disease Make You Gain Weight
2015-05-23 03:50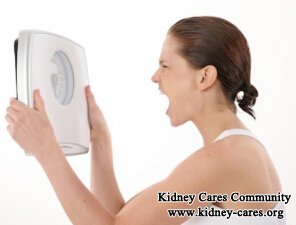 Polycystic Kidney Disease(short for PKD) causes many fluid-filled cysts to develop in the kidneys. Those cysts enlarge with time going, which can cause severe damage to your kidneys or even your whole body. Can PKD make you gain weight? Some patients indeed suffer from weight gain with PKD. Now let's have a quick look.
-The use of steroids
When your kidneys are damaged by those cysts, it is likely for you to suffer from proteinuria. Steroids and other immunosuppressants are the common used drugs to inhibit kidney inflammation and decrease the permeability of capillaries so as to stop protein leakage. But if you use steroids for long-term, it can increase your appetite, which can make you gain weight.
-Water retention
The damaged kidneys can not remove the excess fluid from the body, leading to water retention. Besides, if you have massive proteinuria, plasma colloid osmotic pressure decreases so that fluid flows into tissue space. Severe water retention can make you gain weight as well.
When you are overweight, it can cause many problems, such as cardiovascular disease, high blood pressure, diabetes, cancer, further kidney damage, etc. Therefore, if you suffer from weight gain, you should talk with your doctor to find out the causes. If it is caused by steroids, you should control your appetite and do some gentle exercises in the daily. If it is caused by water retention, you should take treatment to flush out the accumulated fluid, such as diuretics.
Can PKD make you gain weight? Weight gain is just one of complications of PKD. If you want to lead a normal life with PKD, you should control the growth of kidney cysts and reduce their size. Micro-Chinese Medicine Osmotherapy is a kind of TCM, which can help you achieve the goal. For more information about this treatment, please contact online doctor or leave a message below.