Do People Who Have PKD Suffer from Poor Appetite
2015-03-18 11:51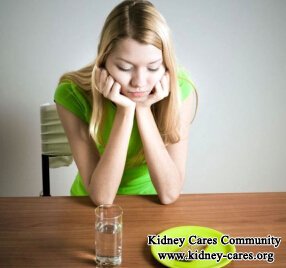 PKD is an inherited kidney disease, which is characterized by fluid-filled sacs. With PKD, patients often have back pain, high blood pressure, enlarged belly, blood urine and some other symptoms. Do people who have PKD suffer from poor appetite? Yes. Now let's have more information about it.
How does PKD cause poor appetite?
-With time going, cysts become bigger and bigger, so your kidneys enlarge as well. Kidney is around stomach. When your kidneys are big enough, they will oppress your stomach, which affects your appetite.
-When your kidney function is impaired by those growing cysts, waste products can not be removed from the blood. The accumulated waste products in blood may make you have nausea, vomit and some other body malaise so as to affect your appetite.
-Some of the medicine you take may stimulate your stomach, leading to poor appetite.
-Because of the diet restrictions, you can not enjoy whatever you like to eat and drink, so it is likely for you to have poor appetite.
How to improve poor appetite for people with PKD?
-Doing some gentle exercise in the daily can help you improve poor appetite.
-Ask your doctor to change the medicine you take.
-You can adjust your diet under the instruction of a dietitian.
-If it is associated with those waste products, you can use some blood purification therapies to cleanse your blood, such as medicated full bath, medicated foot bath, circle therapy, enema therapy, steam therapy, etc. These therapies are also helpful for your kidney recovery.
-If it is caused by enlarged kidneys, you should shrink the cysts. Micro-Chinese Medicine Osmotherapy can block the abnormal proliferation of renal tubule epithelial cells and the secretion of cyst fluid so as to stop the growth of cysts. It can also increase the permeability of cyst wall and speed up blood circulation in cysts so that cyst fluid can be taken away with blood circulation and then cysts become small. As a result, your stomach can work normally.
Do people who have PKD suffer from poor appetite? Yes, poor appetite is also a common complication of PKD. If you still have any question, please contact online doctor.