Headache and PKD: What Kind of Medicine Can I Use
2015-02-04 08:00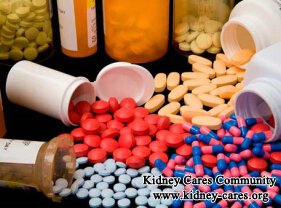 "I have PKD and I have headache frequently. What kind of medicine can I use?" Headache is a common symptom of PKD. Hope the following information can help you solve the problems. You can also get free advice directly from online doctor.
How does PKD cause headache?
-High blood pressure
PKD is characterized by growing kidney cysts. With the enlargement of kidney cysts, they oppress the kidney tissues around so as to stimulate kidneys to secrete excessive renin, leading to renal high blood pressure. About 70-75% PKD patients have high blood pressure. High blood pressure may put stress on cranial nerves, leading to headache.
-Cerebral aneurysm
Cerebral aneurysm is a common complication of cerebral aneurysm, which can also suppress brain, leading to headache.
In addition, anemia and medications can also cause headache.
Medicine to relieve headache for PKD patients
If your headache is so severe that you can not bear, you can use pain relievers to relive the pain. For healthy people, Ibupronfen, Naproxen, Celecoxib and some other NAID are the common used drugs to ease and inflammation. But they may be bad for high blood pressure and impair your heart and kidneys further if you have kidney function impairment. Therefore, you had better consult your doctor if you want to use them.
Over-the-counter acetaminophen (Tylenol and generic) is a good first option for people with high blood pressure, heart failure or kidney problems. But high dosages of that drug can damage the liver, so take the lowest dose that proves enough pain relief.
Besides medicine, you can use some external therapies for headache, such as massage and acupuncture and moxibustion. They are safe for you, because they do not cause any side effects.
The fundamental way to relieve headache for PKD patients is to shrink the kidney cysts and protect your kidneys. Micro-Chinese Medicine is such a therapy, which does not only stop the growth of cysts, but also help you protect the kidneys. Maybe you can have a try.
What kind of medicine can I use for headache and PKD? It depends on your medical condition. The above information is very general. For more information, please leave a message below or send emails to kidneycares@gmail.com.