How Does PKD Affect Sleep
2015-01-21 08:25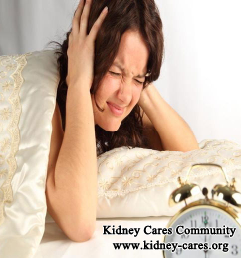 How does Polycystic Kidney Disease (PKD) affect your sleep? PKD is a common kidney disease and it can cause many health problems. People with PKD often have trouble falling asleep and staying asleep. Physical and mental health can contribute to sleep problems. The following are some common causes for disrupted sleep patterns in PKD patients.
Emotions
When you get PKD, you always feel worry, anxious and sad, which can keep you at nigh. If your sadness, anxiety or depression lasts more than two weeks, tell your doctor immediately.
Inadequate dialysis clearance
A build up of waste in the blood can cause you to feel ill and uncomfortable. This could make sleeping difficult. If you are on peritoneal dialysis, your doctor should test your dialysate to make sure it is pulling enough waste and toxins from your body.
Sleep pattern changes
Sometimes patients who have PKD are more tired than usual. They usually get asleep earlier than their normal bedtime or nap during the day. If you feel that a nap can help you, limit your nap time. Naps that last longer than an hour can disrupt your sleep cycle.
Sleep apnea
If a PKD person is suffering from sleep apnea, this can cause your breathing to be interrupted or stopped for more than 10 seconds while you are in a deep sleep. You will be weakened by apneas.
Restless leg syndrome
Restless leg syndrome (RLS) can cause discomforts which vary from person to person. Some people report an itchy feeling while others report a crawling or creepy sensations. RLS can be painful, like burning, aching or pricking. The symptoms of RLS often occur at night, particularly at bedtime. This urge to move your legs disrupts your sleep quality. It is difficulty for you to fall or stay asleep, which can lead to insomnia. During the day, you may feel fatigued and irritated.
The above are common causes affecting sleep in PKD patients. The key point for sleep problems in PKD should start from shrinking kidney cysts, repairing injured kidneys and restoring renal function by Micro-Chinese Medicine Osmotherapy. If you want to live a normal life as healthy people, this natural treatment for PKD is worth being considered.