What Is The Effect On The Person When Kidney Cysts Become Large
2015-01-01 02:31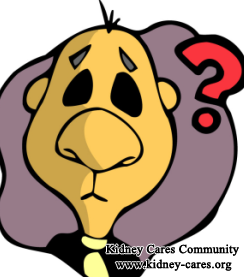 Renal cysts are small to large masses that grow on one or both kidneys. Single kidney cysts are not a health risk. However, polycystic kidney disease (PKD), a common inherited disorder, may lead to the formation of hundreds of cysts, abnormally enlarged kidneys, and eventual kidney failure. Well, what is the effect on the person with large kidney cysts?
If cysts grow large in PKD, people will have the following discomforts:
1. feeling of fullness
Once a cyst becomes large enough, it is common for people to notice a premature feeling of fullness after eating.
2. back and stomach pain
A sore feeling in the lower back and stomach, on one or both sides, is common with patients who have kidney cysts. The pain will range from dull ache to sharp pains that require medication for relief.
3. blood in urine
When the cysts grow big, they will oppress the adjacent kidney tissues and lead to the loss of kidney function. Healthy kidneys are responsible for filtering blood. Thus, red blood cells can be prevented from leaking into urine. However, for patients with large cysts, due to the decline of kidney function, excess red blood cells will leak into urine, causing blood in urine.
4. urine problems
Many patients with kidney cysts find they need to urinate more frequently, or they may feel the urge to urinate even when there is no urine present in the bladder. Besides, people may feel burning on urination and abdominal pain due to associated urinary tract infections.
5. high blood pressure
One of the important functions of kidneys is to regulate blood pressure. When kidneys are damaged, high blood pressure is the most common sign of the presence of PKD and its cysts.
What is the effect on a person when kidney cysts become large? After reading the above article, I hope you have known it. However, due to different medical conditions, you may have different experiences. No matter what signs you experience, you should see a doctor immediately.