Will A Person Feel Tired with Polycystic Kidneys
2014-10-23 16:59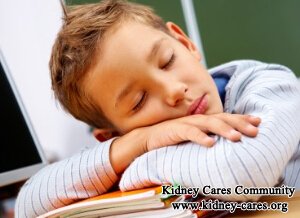 "Will a person feel tired with polycystic kidneys?" When diagnosed with Polycystic Kidney Disease (PKD), you may be concerned about the prognosis. Indeed there will be a lot of symptoms with the development of PKD.
Your fatigue may be associated with anemia.
Because these cysts grow with time going, they will affect kidneys to secrete erythropoietin, a hormone that stimulates bone marrows to make red blood cells. Red blood cells transport oxygen and nutrients to the muscles. When the amount of red blood cells declines, muscles can not get enough oxygen so that you get tired easily.
It may be associated with poor nutrient intake.
With PKD, you are always required to follow a restricted diet, for example, low protein diet. But sometimes people mistake it to avoid protein intake. This may make them suffer from malnutrition. And then you often feel tired.
Physical inactivity may add insult to injury.
In order to protect the cysts from burst, PKD patients are asked to avoid strenuous exercise. But it does not mean you can not do exercise. Physical inactivity will make the muscles lose strength so that you feel week.
There may be other causes of your fatigue, such as poor sleeping quality, side effects of medicine, etc.
How to boost energy with polycystic kidneys?
Anemia occurs when kidneys begin to lose their abilities. If you have anemia, you should receive treatment as early as possible. Besides, you should follow a balanced diet and talk with a dietitian who can help you make a personalized diet plan. Doing some gentle exercise with PKD is OK, such as walking, jogging and tai chi. Do not lie on bed the whole day.
The fundamental way is still to control the growth of cysts and protect kidney function. Micro-Chinese Medicine Osmotherapy is a good choice. It can increase the permeability of cyst wall and speed up the blood microcirculation in cyst wall so that cyst fluid can be taken away from the cysts with blood circulation. In this way, cysts shrink. This therapy can also help repair the damaged kidneys because of its properties of anti-inflammation, anti-coagulation, blood vessel dilation and extracellular matrix degradation. With kidney function improves, you feel energetic.
PKD causes various symptoms besides fatigue. If you want to live a normal life, take measures as early as possible. If you have any question, please contact online doctor.