Cause And Management Of High Creatinine In PKD
2014-08-25 08:30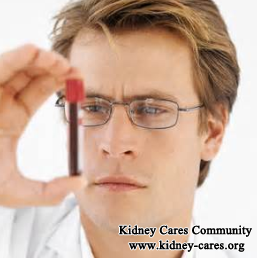 Abnormal kidney function leads to Polycystic Kidney Disease(PKD). What to do when creatinine level is high in PKD? Low or high creatinine level affects whether polycystic disease can be cured or not. How to treat high creatinine level caused by PKD? This question bothers patients. To solve this doubt, our kidney disease experts will answer this question.
What is creatinine?
Creatinine is almost concerned by every kidney disease patient. The change of creatinine level is the baromether of patients and their family members. Creatinine reflects the health condition of kidneys to some extent and is sign of kidney damage. The higher creatinine level is, the more severe kidney damage is.
The cause of high creatinine level
Creatinine is a metabolic product in the human body which is mainly generated by creatine. Creatine can provide energy for our muscle activity. Muscle activity will consume energy to generate creatinine. However, creatinine is produced constantly and excessive creatinine level will produce toxic effects on your body. Normally, glomerular will filter it out from our body into urine. When kidneys are damaged, creatinine cannot be drained from our body. In normal case, the generation of creatinine in the body is 1mg/min and glomerular at the same speed eliminate creatinine from the body. When kidney function declines to a certain degree, serum creatinine increases. If renal compensatory mechanism is normal, serum creatinine does not elevate. When normal kidney function is 1/3 and kidneys cannot compensate the creatinine, serum creatinine level will increase. Therefore, serum creatinine is not the only indicator of kidney damage. Other causes can also lead to high creatinine level such as muscle atrophy, pregnancy, thin body and dehydration, too much meat intake. Creatinine level is an important measurement of kidney damage, but it is not the only factor of kidney disease. So you do not need to worry too much about it. You should go to see a doctor first or consult our online experts.
How To manage high creatinine level in PKD?
the main factor of increased creatinine is declined kidney function, so the radical solution is to repair kidney damage and improve kidney function. You can have a try of Micro-Chinese Medicine Osmotherap. The active ingredients can come to the kidney lesion directly with the help of osmosis device. It helps restore kidney damage and improve kidney function. When kidney function is enhanced, it can discharge excess creatinine from the body and lighten kidneys.
This article introduces the root cause and radical treatment of elevated creatinine level. Micro-Chinese Medicine Osmotherapy is another effective way to lower creatinine level. If you want to learn detailed information about this therapy, you can leave us a message below or consult online doctor directly.