How Do I Get Rid of Headache with PKD
2014-07-22 09:06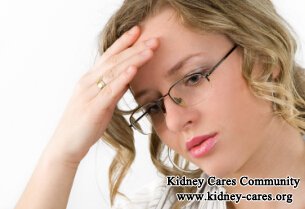 Headache is a common complaint of PKD patients. How do I get rid of headache with PKD? Though headache is not as serious as PKD, it can still affect your quality of life. There are many factors associated with headache for PKD patients.
Headache caused by high blood pressure
Because the cysts in the kidneys can gradually enlarge with time going, which oppress the blood vessels so as to reduce the blood flow to the heart. In order to improve this condition, your body will increase blood pressure. High blood pressure may stimulate your brain nerves, leading to headache.
To alleviate such headache, you should manage your high blood pressure. Medications such as ACEI, ARB, CCB and Diuretics are helpful. Besides, you should pay attention to your diet and follow a low sodium diet. If you are in the early stage, moderate potassium intake can help you lower blood pressure as well.
Headache caused by cerebral aneurysm
Cerebral aneurysm is a common complication of PKD. When an aneurysm enlarges, it can produce headache. Besides, when a cerebral aneurysm begin to leak a small amount of blood, it may cause a severe headache.
Two common methods are used to repair an aneurysm. One is to do a brain surgery, and the other is endovascular repair.
Headache caused by anemia
Anemia occurs when your kidney function declines. Because your kidneys can not secrete enough erythropoietin so that the formation of red blood cells are affected.
To eat EPO and iron supplement is helpful in easing anemia.
Headache caused by medications
Some of the medications you take can cause headache, such as anti-hypertensive drugs.
In such case, you should talk with your doctor and change this medication to another. Because treating kidney disease is a long process, you had better choose some natural remedies so as to reduce side effects.
Besides suiting the remedy to the case, you can do some massage or acupuncture to remit headache. At the same time, you should control the growth of kidney cysts and protect your kidney function.