Gout And Polycystic Kidney Disease (PKD)
2013-09-26 16:47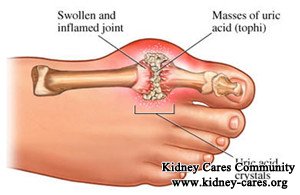 Gout is a very painful condition and it mainly affects the joints. It is reported that the PKD patients are is very likely to develop gout.How to treat gout in PKD?
How is gout related to PKD?
Gout occurs as high levels of uric acid builds up in body.In right condition,the kidneys process the uric acid and filter the excess uric acid out of body.However,if excess uric acid is produced in body or the kidneys fail to function adequately,excess uric acid will accumulate in body.Over time,more and more uric acid builds up in body and crystals will form.The crystals can deposit in different parts of body to cause inflammation.
PKD is a characterized with numerous cysts in kidneys.With age, the cysts will increase in both size and number.As a result, the enlarged cysts will replace more and more healthy nephrons, resulting in renal function decline.
When the kidneys are impaired in PKD,the kidneys can not process and remove excess uric acid from the body,thus resulting in gout.Moreover,if the uric acid builds up in kidneys, it may cause inflammation in kidneys, thus accelerating renal function deterioration.
How to manage gout in PKD?
Firstly,the patients should cut down the consumption of foods high in purine like seafood,animal meat etc.
Secondly,control the risk factors of gout.High blood pressure, obesity,high blood sugar etc all can contribute to gout.It is important for the PKD patients to control these risk factors.
Thirdly, as mentioned above,high uric acid results from reduced renal function in PKD.Therefore,to control gout fundamentally, the patients should treat kidneys as a whole. If the kidneys can be restored and work better,the uric acid will be eliminated from body and gout will be controlled fundamentally.
Micro-Chinese Medicines Osmotherapy can help the patients attain the above treatment goals and treat gout in PKD completely.