Will PKD Get Worse When Getting Older
2015-10-16 03:16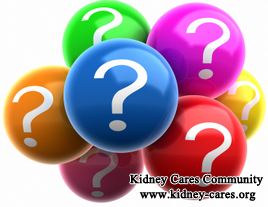 Polycystic Kidney Disease (PKD) is a genetic kidney disease. And its onset and development has a certain regularity. When a person gets older, his PKD will also get worse. Please see the following details.
PKD stage includes 5 stages:
1. Onset stage
PKD is a hereditary disease. Generally you will have PKD once you are born. It is not easy to be detected since the size of kidney cyst is too small. PKD does not be detected before the age of 20.
2. Growing stage
Between the age of 30 to 40, kidney cyst will grow quickly. Medically this stage is called growing stage. In this stage, western medicines are only symptomatic treatment like high blood pressure. This seems more passive. Actually the treatment in this stage should apply Chinese medicines which can promote blood circulation to remove blood stasis. Besides, Chinese medicines can also stop kidney cysts from growing or delay its progression so as to achieve the purpose of prolong patients' life expectancy.
3. Enlargement stage
After the age of 40, kidney cyst will grow further. When kidney cysts grow larger than 4 cm and before they get burst, this stage is called enlargement stage. With the enlargement of kidney cysts, a series of clinical symptoms will occur like back pain, proteinuria, blood in urine and high blood pressure, etc. In this stage, combination of western medicines and Chinese medicines should be taken. Through promoting blood circulation to remove blood stasis and eliminating cystic fluid, it achieves the purpose of protecting kidney function.
4. Rupture stage
If kidney cysts keep growing, they may get burst under the action of some external cause. Once they get burst, you need to take treatment immediately to control infection, prevent septicemia and acute deterioration of kidney function.
5. Uremia stage
In this stage, treatment should be taken to protect kidney function. In the late stage, peritoneal dialysis or hemodialysis should be taken.
Will PKD get worse when getting older? Yes. PKD will get worse with time going. Thus, once there is a family history with PKD, you should take tests early. Any question, please leave us a message below or send us a message to kidneycares@hotmail.com.