What Are Five Stages of Polycystic Kidney Disease (PKD)
2014-04-07 08:26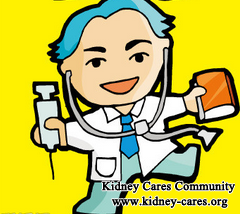 PKD is an inherited disorder, which is very tough and makes patients with PKD very annoyed. Here we will introduce five stages pf PKD, helping patients with PKD understand PKD condition. Now see the below:
1. Emergence stage
As PKD can be inherited by children, thus, for patients with PKD, when they are born, they begin to have PKD. But at this time, there are no symptoms of PKD. In general, symptoms begin to occur after they are at the age of more than 20 years old.
2. Growth stage
When patients with PKD are 30 to 40 years old, PKD can develop very fast and seriously. Thus, it is very necessary that patients should get effective treatment to control disease condition at this stage.
3. Swelling stage
At this stage, kidney cyst always grows and increases very fast,and is larger than 4 cm, what is worse, many symptoms of PKD can occcur obviously like high blood pressure, blood in urine, proteinuria and pain in back.
4. Cyst rupture stage
When PKD comes to this stage, condition becomes very severe. By the time, kidney cyst grows very large, so it is very likely to rupture, just as the balloon. In addition, cyst rupture can do much harm to patients with PKD, such as severe pain, infection, blood in urine, etc.
As is known to us, PKD can cause kidney damage, if not controlled well, kidney failure can be resulted in finally. In this stage, patients with PKD should control the condition of kidney failure, preventing developing into end stage kidney failure. At end stage kidney failure, dialysis or kidney transplant is always recommended.
The above is development of PKD in patients. Patients with PKD should have a knowledge of PKD, so that they can get timely treatment to prevent further deterioration. If you want to know more or any question, please contact us freely.