Can Polycystic Kidney Disease Patients Drink Wine
2016-11-22 06:50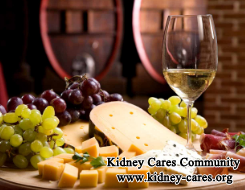 Polycystic kidney disease, PKD in short, is a genetic disorder that causes cysts with fluid grows in the kidney. Many patients suffer from PKD may wonder that whether they can drinking or not when they need drinking. Today, we will talk about the possibility for PKD patients to drink wine.
Why people drink wine?
People drink wine for many reasons.
Some national culture invites their guests to drink wine to show their amity;
Some nation celebrates festival with wine and tasty food;
Some people need to drinking due to job demand;
Using wine to warm their body or release their stress is also a common reason.
What will happen if patients with PKD drink wine?
When patients drink wine, alcohol can lead to inflammatory reaction and fibrosis in kidney tubules, epithelial tissue vacuolar degeneration, all these can burden the kidney and worsen the PKD.
Alcohol can also do harm to the liver by causing alcoholic hepatitis and mild liver fibrosis. Alcohol will lead to liver cirrhosis if drinking a long term.
PKD patients usually have a weak blood vascular system. With the function of increasing the circulation of the blood, telangiectasis, alcohol will highly increase the risk of cerebral hemorrhage.
Kidney patients' digestive system is extremely sensitive. Alcohol can stimulate the gastrointestinal mucous membrane, enhance gastritis, acute gastritis, acute hemorrhage of the gastric mucous membrane.
We suggest that patients with PKD or other kidney disease cut out wine immediately.
We don't mean that drinking can cause only one symptom. Drinking surely has a possibility to cause all these diseases mentioned above, which means a fatal condition.
We suggest patients to choose tea as a beverage to entertain your friends. Tea has a long history. Tea has VB, VC, VA and other elements which can help to vascular dilation, reduce blood pressure.
PKD patients had better not drink wine. If you have any question, you can leave a message below or consult our online doctor directly.