What Is The Diet For Patients With ADPKD
2015-09-21 09:36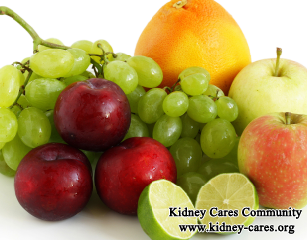 What is the diet for patients with ADPKD? The kidney diet is a set of guidelines for people with kidney disease. The types of foods prescribed depend on the level of PKD the patient is experiencing. Here we will introduce a general diet for ADPKD patients.
1. Drink plenty of water
ADPKD patients have better drink 4000 ml water. In this way, urine volume can be 2000-2500ml.
2. Avoid drinks with caffeine
PKD patients should be forbidden to have a drink with too much caffeine. Because caffeine can aggravate cell proliferation and the secretion of cystic fluid.
3. Eat less salt
Low sodium diet can maintain more urine volume. Besides, it can also reduce renal cyst hyperplasia and decrease the secretion of cystic fluid. Low sodium diet also reduces the occurrence of infection and kidney stone. High blood pressure can also be controlled well by low sodium diet.
4. Fruits
Patients in early and middle stage of PKD can eat fruits with potassium like oranges and bananas. If patients have obvious hyperkalemia should reduce or limit the intake of potassium.
5. Protein
When the body breaks down protein, it produces a waste product called urea. This waste product is usually discharged out by the kidneys and expelled from the body in urine. Patients experiencing PKD must be careful about the amount and type of protein they consume because the kidneys fail to remove urea. If too much urea accumulates in the body, it can cause serious illness. However, patients must be sure to get enough protein because without protein the body is unable to perform proper muscle maintenance.
There is no doubt that it is essential for patients experiencing PKD to closely monitor their diet. A doctor also prescribe other treatments in addition to a special diet. The treatment for PKD in our hospital is Micro-Chinese Medicine Osmotherapy. This therapy can stop the epithelial cell from secreting cystic fluid, improve blood circulation, increasing the permeability of cystic wall and changing inner and outer pressure difference of cystic wall. So the cystic fluid can be reabsorbed and removed out of the body with urine. In this way, kidney cyst will be shrunk and further kidney damage can be prevented.
If you are interested in this therapy, you can leave us a message below or send an email to kidneycares@hotmail.com. We will reply you within 24 hours.