Can Patients with Kidney Cysts Take Grapefruits
2015-07-01 10:29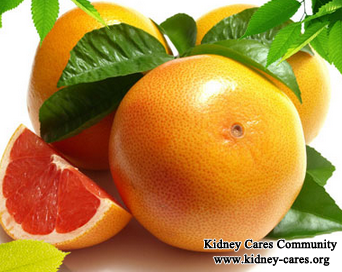 Can patients with kidney cysts take grapefruits? There are plenty of major health benefits of grapefruits, like relieving fatigue, solving the problem of indigestion, alleviating insomnia, treating diabetes and controlling constipation,etc. Well, are grapefruits good for patients with many kidney cysts?
If you do not suffer from it or know someone who does, you may not even know what polycystic kidney disease (PKD) is. But not only is the disease relatively common, it is one of the leading causes of kidney failure. Fortunately a flavonoid in grapefruit could prevent cysts associated with the disease and treating PKD overall.
PKD is the fourth-leading cause of kidney failure. It is a genetic kidney disease which is characterized by the growth of cysts in the kidneys. These cysts can lead to kidney enlargement and utimately failure.
Naringenin, a compound responsible for the bitter flavor in grapefruit could help prevent these cysts and the complications associated with PKD.
In addition, grapefruits are also beneficial for other conditions:
1. Control constipation
Constipation is a common complication of kidney disease. A glass full of freshly squeezed grapefruit juice in the morning is a great remedy to control constipation. The juice stimulates the colon and other parts of the body relating to the digestive system.
2. Help for diabetes
If kidney disease is caused by diabetes, intake of grapefruit can help them regulate the flow of sugar in the body, effectively handling the disease.
3. Relieve insomnia
Kidney cyst patients suffering from this condition should drink one glass of grapefruit juice before going to sleep.
However, the amount needed to effectively prevent cysts can only be obtained through supplements or intravenous injection. Grapefruits play a role in a natural treatment for sufferer of PKD. If you have any question, you can send email to kidneycares@hotmail.com or leave a message below. We will try our best to help you.