Is Milk Bad For ADPKD
2015-05-12 07:57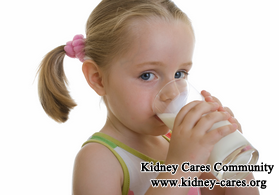 Is milk bad for autosomal dominant polycystic kidney disease (PKD)? People with PKD may have to limit dairy product intake in their kidney diet at some point in their disease process. Why is this?
It is recommended for people with PKD to limit dairy products consumption, sometimes to only a half a cup of milk, half a cup of yogurt or one ounce of cheese per day. Why do PKD patients limit dairy consumption?
Kidney disease patients often suffer from bone problem. If they consume dairy production improperly, bone problems can be worsened. Bones are mostly made of calcium and phosphorus. When kidney function is perfect, the kidneys are able to keep these two minerals in balance in the blood and bones. However, kidney disease causes this process to become unbalanced.
Excess phosphorus cannot be discharged by the kidneys and builds up in the blood.
Kidneys no longer activate vitamin D which affects the ability to absorb calcium from foot eaten.
Low blood calcium levels cause calcium to be released from the bones, weakening them over time.
Rising phosphorus in the blood combines with calcium, which will cause calcifications elsewhere in the body and decrease amount of blood calcium.
If more calcium is released from the bones, a vicious cycle can begin.
Despite milk's calcium content, its high phosphorus content may actually weaken bones. From this aspect, ADPKD patients should limit milk and dairy products. There are some alternatives to milk if you have kidney disease such as soy milk and nondairy creamer, rice milk and almond milk. However, you should pay attention to these products that contain significant amounts of potassium and/or phosphorus. It is important for you to check the label for additives containing these nutrients.
If you have any question or doubt, you can leave a message to kidneycares@hotmail.com or consult our online doctor directly. We are always here to help you.