What Kind of Food Should I Stay Away with PKD
2014-10-03 03:51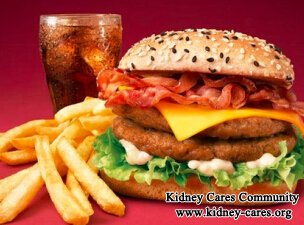 With PKD, you should know which kind of food you can eat and which kind of food you should stay away. A balanced diet can protect your kidneys to certain extent. Space limited, so we just list some of the food here.
High salt diet
Because kidney cysts oppress the blood vessels around, PKD patients often have high blood pressure. High salt intake can push blood pressure up further, leading to kidney damage and heart disease. Besides table salt, you should keep away food high in salt, such as pickles, canned foods, smoked bacon, fast food, etc.
High protein diet
With the impairment of kidney function, kidneys can not remove the waste from the blood effectively. As we all know, protein metabolism produces a lot of urea, creatinine and some other waste, which can increase the workload of kidneys, so kidney patients should avoid high protein diet and plant protein.
Food high in oxalate
Kidney stone is a common complication of PKD. Food high in oxalate increases the risk of kidney stone and worsen your state of illness. Food high in oxalte include coffee, tea, dark leafy green vegetables, etc.
Food high in phosphorus
The impaired kidney function can not balance electrolytes in the blood. High phosphorus intake can cause many problem, such as skin itch, bone disease, etc. Nut, beef, soya foods and so on are all high in phosphorus.
In advanced stage of PKD, patients may also need to limit the intake of food high in potassium. According to the medical condition of patients, there may be other diet restrictions. Therefore, you had better talk with your doctor.
Diet plays a role in controlling your medical condition. It can not replace the medical treatment. Our hospital has developed a set of therapy to inhibit the growth of cysts so as to prevent kidney failure. For more information, please leave a message or contact online doctor directly.