When to Use Sodium Bicarbonate in ADPKD
2014-09-17 08:12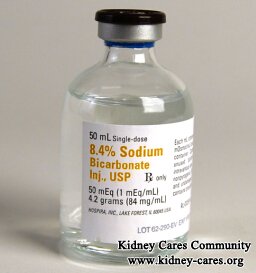 Some studies show that eating moderate sodium bicarbonate is good for kidney patients to slow down the progression to kidney failure. Now let's see the health benefits of sodium bicarbonate and when to use sodium bicarbonate in ADPKD.
Health benefits of sodium bicarbonate
-Correct metabolic acidosis
In the advanced stage of ADPKD, the damaged kidneys can not expel waste from the blood timely and then waste builds up. Some waste products such as sulfates, phosphates and uric acid can cause imbalance in the blood pH, leading to metabolic acidosis. Metabolic acidosis can cause protein in the body to break down. It can also cause loss of bone minerals and contribute to bone disease. Sodium bicarbonate can neutralize the acid materials so as to restore normal blood pH and reduce your risk of bone disease.
-Slow down the rate of decline in kidney function
Some studies show that sodium bicarbonate slows the rate of decline in kidney function by two-thirds.
-Prevent urinary tract infections
Urinary tract infections is the common complication of ADPKD. Sodium bicarbonate can help the body overcome the infection by reducing the acid in urine.
-Control kidney stone
Kidney stone is also common among ADPKD patients. Treatment with sodium bicarbonate can restore a healthy ionic balance and discourage kidney stone formation.
When to use sodium bicarbonate in ADPKD?
Though sodium bicarbonate has so many health benefits, but it can not be used for long time. Because it can cause headache, cramp, poor appetite, nausea, cardiovascular disease, frequent urination, bone disease, etc. Besides, sodium bicarbonate is high in sodium. If you have edema or high blood pressure, you had better avoid too much intake. What is worse, it may cause kidney alkalosis so as to affect the recovery of kidneys. When to use sodium bicarbonate depends on your medical condition.
Though sodium bicarbonate can slow down the progress, it can not stop the growth of cysts. If you really want to have a better control of ADPKD, you had better receive a systemic treatment. If desired, please leave your basic information and test report here. Our doctors can give you some free treatment suggestion.