What Beverages Are Safe When You Have PKD
2014-08-03 03:05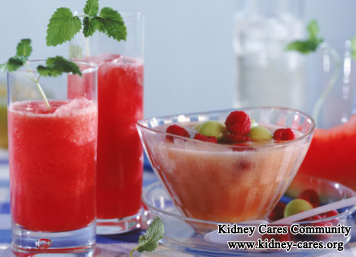 What beverages are safe when you have polycystic kidney disease (PKD)? Beverage is indispensable part of our daily life, so are PKD patients. Well then, which beverage is good for PKD patients?
PKD is a genetic kidney disease in which numerous fluid-cysts cover the kidneys. The cysts should be well controlled, otherwise they will cause dangerous conditions and threaten your life span. Therefore, the beverage they drink should help control kidney cysts or help prevent complications. The following will provide certain drinks which are safe for people with PKD.
1. Berries juice
With berry juice like cranberry, blueberries, bilberries, it is best to drink the juice because these drinks help improve kidney function and decrease high creatinine level. However, how much you can drink depends on your medical conditions. Therefore, if you want to get an individualized diet, you can describe your conditions or send your test reports to kidneycares@hotmail.com, our experts will analyze your conditions and then tell you how much you can drink.
2. Water
Drinking ample of water shuts down vasopressin, a trigger for cyst growth. Also you can add lemon in you water, because this helps increase patients' urine to eliminate more wastes and toxins from the body without any side effects.
3. Herbal tea
PKD patients can drink some herbal tea in their daily life. Dandelion root tea, nettle leaf tea, cinnamon tea and barley tea are all safe for kidney disease patients, which help increase urine output and excrete excessive wastes and fluid from the body. In this way, swelling and high creatinine level can be alleviated naturally.
The above beverages are generally safe for patients with PKD. However, caffeine and soda drinks should be avoided. Although, diet management is essential for PKD therapy, it does not cure the disease from the root. To treat PKD more radically, it should focus on repairing damaged kidney tissues and improve kidney function. Only in this way can patients get a overall health improvement.