Is Taro Good For PKD Patients
2014-07-24 02:07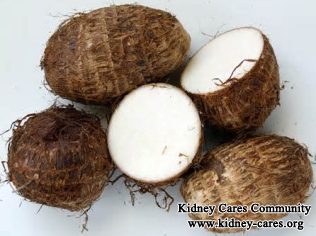 Proper diet plays a significant role in Polycystic Kidney Disease (PKD) treatment. PKD patients should be concerned about what they eat. Taro is rich in many nutrients that are important for our body. However, as a PKD patient, is it good to eat taro? Follow this article and find the answer.
Generally speaking, what PKD patients can eat depends on individual medical conditions and there is no exact answer due to different illness condition. Here we will introduce taro's health benefits which are good for PKD patients.
1. Boost immune system
Taro is rich in vitamin C which has antioxidants to help fight free radicals in our bod, preventing us from diseases like common cold and infection, two common leading factors of kidney disease. In addition, taro is rich in vitamin B6 which boosts immune system, making the body less vulnerable to diseases.
2. Low sodium
High sodium intake tend to worsen high blood pressure and edema in PKD. They usually follow a low sodium intake to reduce stress on kidneys. Taro is a low sodium food, and thus it can be eaten by a PKD patient.
3. Prevent constipation
Due to strict diet and insufficient water intake, constipation is experienced by many PKD patients. To alleviate this problem, dietary fiber is necessary, which prevents constipation and can also decrease the level of bad cholesterol in our body.
The above makes the taro a healthy food to add to PKD diet. However, not all PKD patients can consume this food. If you are a PKD patient with high potassium level in your blood, you should not eat taro too much. Potassium is essential to maintain heart health, but excess amount of this mineral in blood can adversely affect the function of the heart. Other potassium rich foods should all be avoided or eaten less like bananas, bamboo, yam, apricot, potatoes, beetroot, tomatoes, spinach, winter squash and mustard green, etc.
In a word, PKD patients should eat certain food according to their own medical conditions. If you are a PKD patient and want to know whether certain food is good for you, you can send your reports to kidneycares@hotmail.com, and we will give you the answer on your individual conditions.