Are There General Diet Guidelines For Inherited PKD
2014-05-09 02:03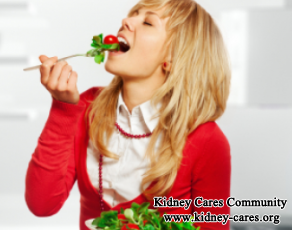 Although there is no cure for polycystic kidney disease (PKD) yet, what you eat can have an effect on how fast the condition progresses. This is why a kidney disease patients need to know a proper and reasonable diet for controlling symptoms of PKD, keeping your kidneys healthy for longer. So are there general diet guidelines for inherited PKD.
Usually the diet will restrict the salt intake, protein intake, fluids, phosphorus and potassium, and calcium supplements.
1. Eat less salt
This is extremely important for people with ADPKD, as too much salt raises blood pressure. This includes not just salt added at the table or during cooking, but also avoid sodium high foods like bacon, ham, sausages, processed foods, fast food and ready meals, etc.
2. Eat more fruits and vegetables
Fruits and vegetables are a good source of vitamins and help lower high blood pressure. As the saying says: one apple a day keeps doctors away. You should eat at least five portions of fruits and vegetables a day, and try to eat more.
3. Moderate protein intake
Too much protein intake will work over your kidneys and worsen your kidney conditions. You should depend on your own medical conditions to choose how much protein you can eat. (if you do not know your conditions clearly, you can send your reports to kidneycares@hotmail.com, and we will analyze your illness conditions and then give you a right protein intake.)
4. Fluid intake
Drinking 8-10 glasses of fluid a day, at least two liters. Polycystic kidneys fail to hold on to and reabsorb water. This does not lead to problems unless you are not able to drink regularly or you sweat a lot.
5. Alcohol
It is your liver not your kidneys, which is responsible for removing alcohol from your body. Therefore, there is no need for you to give up alcohol completely. Of course, too much alcohol is bad for you because alcohol raises your blood pressure, increasing your risk of kidney damage, and heart attack and strokes, and other unhealthy problems.
It is a general diet guideline for polycystic kidney disease patients. Maybe it does not suit for every kidney disease patients. You should choose a proper diet according to your own medical conditions.