How Can I Tell if My PKD Is Progressing
2014-12-05 03:42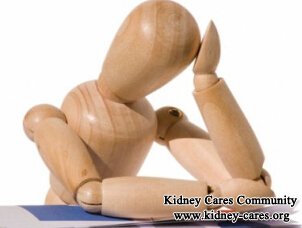 PKD is a generic kidney disease, which can pass down from generation to generation. In the early stage of PKD, there are hardly symptoms so that you can not notice its progression. But with the progression of PKD, more and more symptoms appear even if you receive treatment. How can I tell if my PKD is progressing? To know the answer helps you control PKD early and prevent the further damage to the kidneys.
Age
PKD patients are born with this disease. But the size of cysts are so small that you can hardly detect them. Generally speaking, you can live a normal life before 20 years old.
When you are as old as 30-40 years old, kidney cysts begin to grow up quickly. In this stage, you will have high blood pressure.
When you are older than 40 years old, the cysts will continue to enlarge. When the cysts are bigger than 4 cm, more clinical symptoms appear, such as back pain, foamy urine, blood urine, high blood pressure, etc. In this period, your kidney function will be impaired.
When you are older than 50 years old, kidney failure will occur. And the cysts may be big enough that they burst easily so that you may have to be hospitalized. From the age, you can tell which stage you are in.
Symptoms
PKD patients have many symptoms, such as enlarged kidneys, kidney pain, blood urine, high blood pressure, etc. You can measure your waistline in the daily, if they increase, it may indicate your kidneys enlarge. Besides, you can observe foam in urine, urine color, etc. From the symptom change, you can tell whether your PKD is progressing or not.
PKD can not be cured, but we can control the growth of cysts so as to help you live a normal life without worrying about kidney failure. How can I tell if my PKD is progressing? Do you get the answer you want? If not, our online doctor can serve you for free.