Name: SNYM
Gender: Male
Age: 56 Years Old
Country: South Africa
Diagnose: Diabetic Nephropathy
Patient Word:
This patient comes from South Africa and suffers from Diabetic Nephropathy. Regardless of long distance, he comes to China for unique Chinese medicine treatments.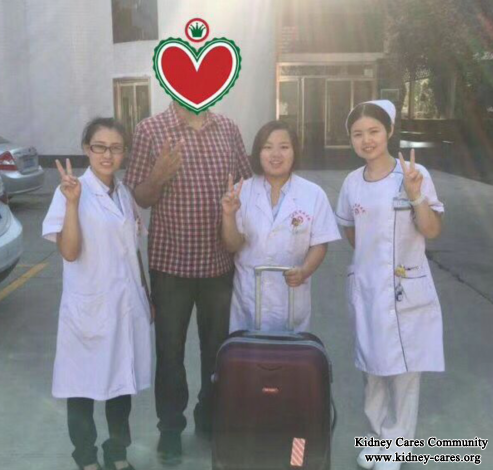 His kidney damage is caused by long time of uncontrolled diabetes. When he just arrives at our hospital, his uric acid is very high and creatinine level is also high. The main treatment in our hospital is a series of Chinese medicine treatments like Micro-Chinese Medicine Osmotherapy, Medicated Bath, Medicated Foot Bath, Mai Kang Mixture, Medicinal Soup, Moxibustion Therapy and Enema Therapy, etc. Based on his specific illness condition, our doctor gives him Cupping therapy, acupuncture therapy, umbilical therapy and common western medicines. After a period of treatment, injured kidney area is controlled effectively and also his residual kidney function is protected. Gradually his condition is controlled well. High uric acid level is reduced to 382 from 628. He is very happy to see this good result.
Healthy kidneys can discharge excess uric acid and creatinine out of your body. Uric acid level and creatinine level will be in a normal range. However, when renal function is damaged by diabetes, kidneys are unable to perform this function properly. In this way, creatinine and uric acid will build up in your body. Then high creatinine level and elevated uric acid level occur. Thus, the radical therapy is to repair injured kidney tissues and improve renal function. Our Chinese medicine treatments can improve renal function through purifying your blood, dilating blood vessels, improving blood circulation, preventing inflammation and coagulation, degrading extracellular matrix and providing nutrients. Once renal function is improved, high creatinine level and uric acid level can be reduced effectively and radically.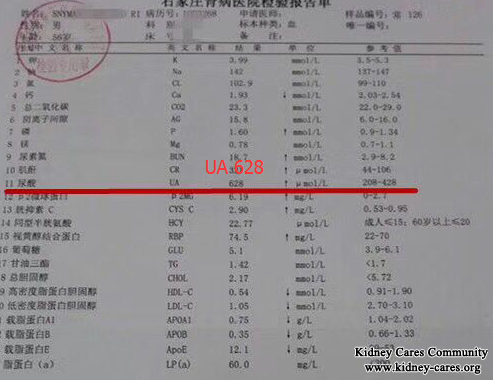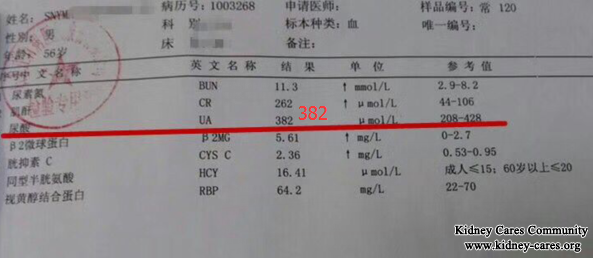 If you are interested in our therapies, you can leave a message below or email kidneycares@hotmail.com. We will reply you as soon as possible.