Chinese Medicine Treatment Help Him Avoid the Big Belly Due to Nephrotic Syndrome
2016-04-06 03:22
Name: Li Xiao Ming
Gender: Male
Age: 8
Country: China
Diagnose: Nephrotic Syndrome
Patient Word:
When the little boy came to our hospital, his stomach was full of fluid, and he had a very big belly. Besides, there are also some other severe symptoms with his nephrotic syndrome, such as high creatinine, nausea, vomiting, etc. Depending on his own case, our expert team gave the systematic Chinese medicine treatment for him. Let's see his improvements after treatment.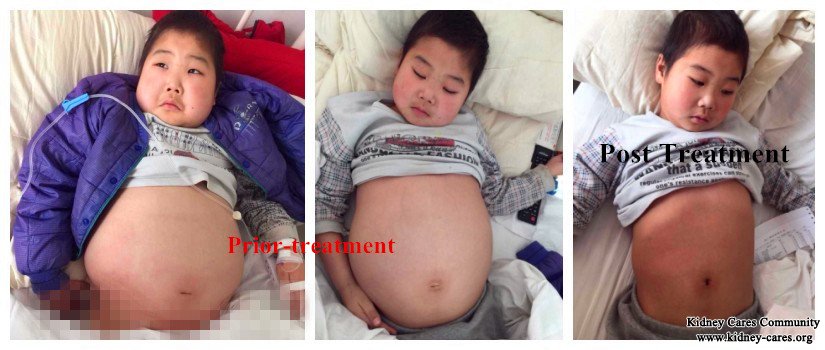 As we know, nephrotic syndrome refers to the kidney disorder with a series of severe symptoms, and the severe edema is a common one. Since the edema in nephrotic syndrome is mainly caused by the severe kidney damage, so we use the Chinese medicine treatment to remedy the kidney damage.
Micro-Chinese Medicine Osmotherapy is a innovation of traditional Chinese medicine (TCM), and it is an external treatment that will cause no side effects. Most important, the Micro-Chinese Medicine Osmotherapy is used to repair his damaged kidney tissues and improve his kidney function from root. Then the kidneys cant work well to remove the excess fluid our from his body, and his severe stomach edema is controlled well.
In addition, we also give the Immunotherapy to him to regulate his immune system. This can stop the immune reactions in kidneys and prevent further kidney damage, and it can also remove the immune complexes out into urine, which can stop the nephrotic syndrome relapse in his later life.
Through systmatic treatment with the Chinese medicine treatment, his condition got great improvements, and his symptoms are controlled well with the improvement of his kidney function. We believe he can live a better life after he gets discharged from our hospital. God bless you little boy.
If you want to learn more details of the systematic treatment in our hospital for the Nephrotic Syndrome, you can leave a message below, or you can also send e-mail to kidneycares@hotmail.com. We will give more help.