Chinese Medicines Give Dialysis Patient A New Life
2016-04-06 03:33
Name: AUWALU NURA SANI
Gender: Male
Age: 46 years old
Country: Nigeria
Diagnose: Kidney Failure
Patient Word: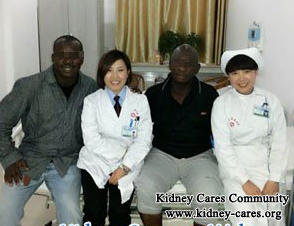 AUWALU NURA SANI is from Nigeria and has been diagnosed with kidney failure three years ago. He suffered from symptoms such as nausea, vomiting and poor appetite . In order to relieve these symptoms, he accepted his doctor's advice to take dialysis three times a week. However, due to insufficient dialysis, he got severe complications such as heart failure, dyspnea, nausea, vomiting, poor appetite, weakness, anemia and electrolyte disorder and so on. What's more, his urine output decreased to 20ml per day.
He saw no hope from dialysis so he changed his focus to Chinese medicines which have been proven to be effective and natural to kidney failure. Then he came to our hospital for treatment.
What treatments are applied in kidney failure?
1. Chinese medicine treatments
In our hospital, there are various Chinese medicine treatments including Micro-Chinese Medicine Osmotherapy, Medicated foot bath, Mai Kang Mixture, Foot Bath and Enema therapy, etc. The aim of Chinese medicine treatment is to repair injured kidney and improve kidney function.
2. Dietary plan
Diet also plays an important role in the treatment of kidney disease. According to his disease, he should follow a low salt, low fat and high quality protein diet.
After a systematic treatment, he feels much better and the Chinese medicines give him a new life.

Medical report comparison
| | | | | | |
| --- | --- | --- | --- | --- | --- |
| check item | hemoglobin | red blood cell | serum creatinine | blood urea nitrogen (BUN) | Urea nitrogen (UA) |
| Before the treatment | 83g/L | 3.07*1012/L | 1371umol/L | 26.7mmol/L | 473umol/L |
| after the treatment | 113g/L | 4.17*1012/L | 1150umol/L | 10.6mmol/L | 368umol/L |
Symptom comparison
| | | | | | |
| --- | --- | --- | --- | --- | --- |
| Before the treatment | poor appetite | weakness | vomiting | urine output 20ml per day | dialysis 3 times a week |
| After the treatment | get the appetite back | weakness disappear | no vomiting | increase to 400ml | dialysis 2 times a week |