A Wedding Invitation Card From One Nephrotic Syndrome Patient
2015-11-19 08:50
Name:
Gender:
Age:
Country:
Diagnose:
Patient Word: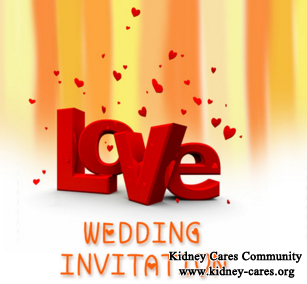 One of the most concerned questions by kidney disease patients is if they can get married. Yes, this is indeed a question that should be thought carefully.
One patient with Nephrotic Syndrome was hospitalized in our hospital. When he comes to our hospital and sees his doctor, the first thing he asked is whether he can get married.
His nephrotic syndrome gets relapsed for 7 times in one year. A cold always makes his disease relapse. The patient takes steroids for treatment but long term of steroids make his face very big. He does not want to go out to meet people. Steroids make his immunity so low that cold is easy to happen.
In our hospital, we mainly use Chinese medicines for kidney disease. During the whole treatment, steroids play an adjuvant role.
Chinese medicines start from removing immune complexes. That is, polluted blood should be purified first. When immune complexes are discharged from the blood, further immune damage to kidneys will be stopped. What's more, active ingredients in Chinese medicines can also restore damaged kidney tissues and improve kidney function through expanding blood vessels, preventing inflammation and coagulation, degrading extracellular matrix and providing nutrients.
The therapeutic effect is really satisfactory. Several recheck ups are all negative. No relapse.
Up to now, it has been 2 years. When getting news from him again, it is that he invites us to attend his wedding. What is a surprise! Congratulations!
As long as you find the right treatment for kidney disease, it is more likely for you to get married and live a happy life.
If you want to know more information about our Chinese medicine treatment, you can leave us a message to kidneycares@hotmail.com or consult our online doctor directly.