Serum Creatinine Level Decreases To 660umol/L from 1088umol/L
2016-04-06 03:24
Name: Gao Yan
Gender: Female
Age: 41
Country: China
Diagnose: Uremia
Patient Word:
Ms Gao's creatinine level is 1088umol/L. Her real age is 41 years old but she seems like to be 70 years old.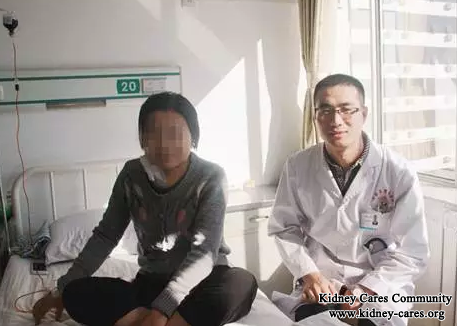 In 2002, she was diagnosed that her serum creatinine level was above 400umol/L. At that time, she got pregnancy for 5 months. Under the recommendation of her local doctor, she induced labor and then took two times of dialysis. Her creatinine level was reduced to 100umol/L.
In 2003, due to fatigue and weakness, she went to hospital again. She took oral Chinese medicine to improve physical conditioning. High creatinine level did not draw her attention.
Before she comes to our hospital, she went to her local hospital due to extremely fatigue and weakness. Her creatinine level has amounted to more than 700umol/L and the disease has developed to uremia stage. In our hospital, the reports show that her creatinine level has amounted to 1088umol/L.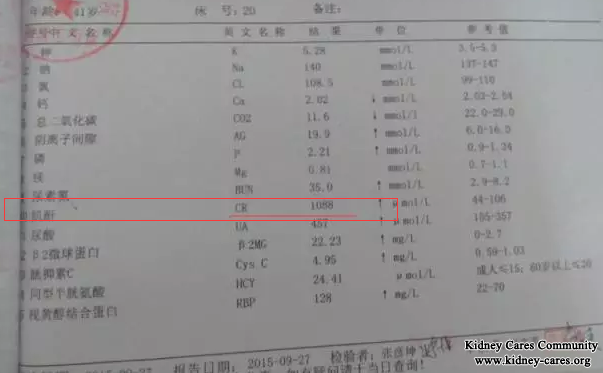 Why does she always feel extremely fatigue?
This is because kidneys are continuously damaged and they fail to discharge toxins from the body, there are many toxic and harmful substances in blood. Every organ cannot get enough nutrient supply. As a result, patients will experience fatigue, nausea and dizziness. All these symptoms are related to kidney function. Therefore, to treat these symptoms from the root, kidney function should be improved.
In our hospital, we use Chinese medicine treatment like Micro-Chinese Medicine Osmotherapy, Medicated Bath, Foot Bath and Mai Kang Mixture to repair impaired kidney tissues and improve kidney function. After a period of treatment, her creatinine level is reduced to 660umol/L. Blood pressure is also stabilized. Body weight is reduced. Dizziness, nausea and weakness all disappear.
She is satisfied with the curative effect of our Chinese Medicine Treatments. If you want to get more information, you can leave us a message below or consult our online doctor directly.