High Creatinine Level Management In Kidney Disease Hospital
2019-04-02 11:31
Name: HUSSAIN ALI

Gender: Male
Age: 20 Years Old
Country: OMAN
Diagnose: Kidney Failure
Patient Word:
Patient information
HUSSAIN ALI is 20-year-old and comes to our hospital for treatment from OMAN. He has high creatinine level for 3 years. On 26 June, 2015, he was admitted in our hospital for treatment.
Treatment for high creatinine level in our hospital
In 2012, he took check up in his local hospital. The results show protein urine 2+, occult blood-, serum creatinine level 500umol/L. B-ultrasound shows that both kidneys have shrunk. In 2015, the lab reports show serum creatinine 1200umol/L, hemoglobin 70g/L and blood uric acid 500umol/L. He was diagnosed with chronic glomerulonephritis, chronic kidney failure, renal anemia and secondary hyperuricemia. Local doctor just tells him to prepare dialysis. There is no other option for his condition. However, HUSSAIM ALI rejected dialysis so he found our hospital through the Internet. He wanted to have a try of characteristic Chinese medicine treatment.
The creatinine level is 879umol/L when he was first admitted to our hospital. We treat high creatinine level through repairing damaged kidneys and improving kidney function. In our hospital, kidney disease is treated by a systematic therapy which includes Micro-Chinese Medicine Osmotherapy, Medicated Foot Bath, Mai Kang Mixture and Medicinal Soup, etc. All these are beneficial for kidneys. Some can improve blood circulation to remove blood stasis. Some can discharge toxins from the body. Some can provide necessary nutrients for kidney restoration. And some can activate injured kidney tissues. In this way, gradually impaired kidneys can be repaired to some extent. More importantly, kidney function will also be enhanced accordingly.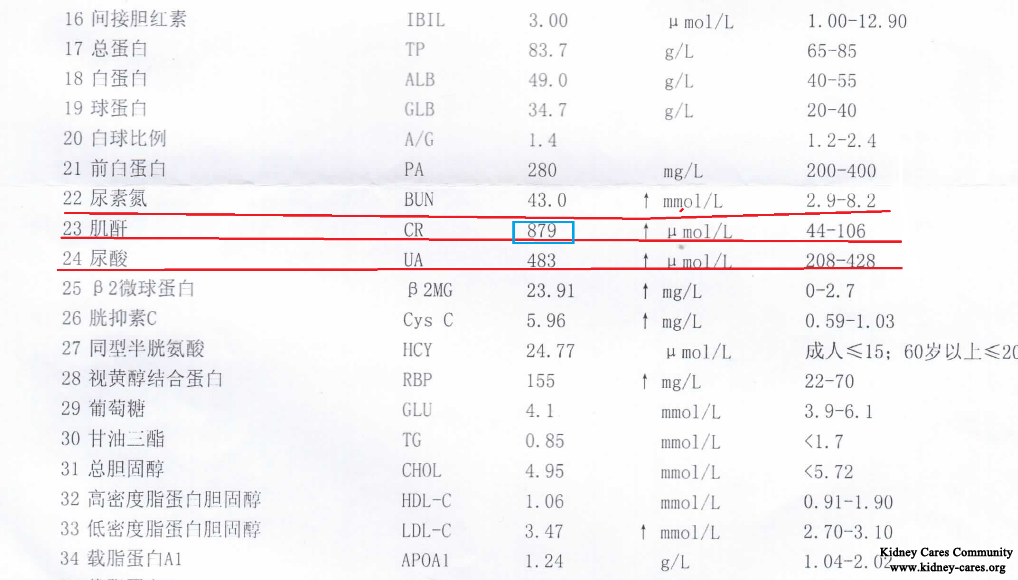 He stayed in our hospital for 18 days and was discharged with illness condition improved. His creatinine level was reduced to 479umol/L from 879umol/L.



From his condition, we can Chinese medicine treatment is able to recover kidney function. There is a possibility to get rid of dialysis with improved kidney function under the treatment of proper diet and Chinese medicine treatment. Dialysis is the last option in our hospital and it is suggested for those whose kidney function has been damaged completely. If you still have some urine output, Chinese medicine treatment can help you improve kidney function and avoid dialysis.