Get Rid Of Dialysis Farewell With Chinese Medicine Treatment
2016-04-21 05:58
Name: Maomao
Gender: Female
Age: 28
Country: China
Diagnose: Uremia
Patient Word:
Maomao has an infinitely bright future. However, a bad luck comes upon her. She was diagnosed with uremia and serum creatinine level is over 1000umol/L. The local doctor recommends dialysis but she refuses it. Without dialysis, her life will be threatened. Reluctantly, she accepts peritoneal dialysis.
But here is the part that puzzles her: peritoneal dialysis only makes her creatinine level not increase rather than lowers the high creatinine level. Her serum creatinine level is still about 800umol/L.
When she comes to our hospital, her serum creatinine level is higher than 822umol/L.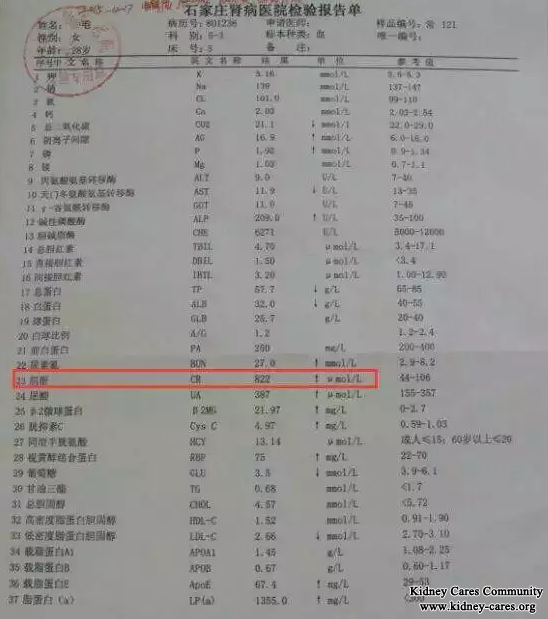 Our doctor tells him that no matter peritoneal dialysis or hemodialysis you take only aims at cleansing toxic and harmful substances in blood. Dialysis can only cleanse harmful substances instead of stopping their regeneration.
Why there are harmful and toxic substances in blood? Of course it is because of declined kidney function. Normal detoxifying function will be damaged and then blood will be polluted.
Maomao suddenly understands that dialysis is a way of cleaning the blood with an artificial kidney but cannot restore kidney function.
If no treatment is applied to improve kidney function, kidney disease cannot be treated from the root.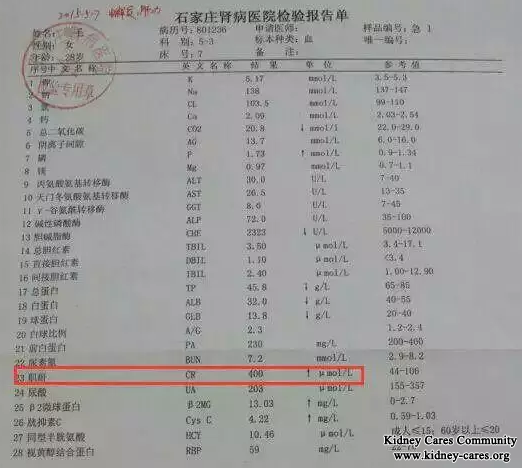 After 20 days of treatment in our hospital, her serum creatinine level decreases to 400umol/L. How does this happen? It gives the credit to Micro-Chinese Medicine Osmotherapy, Medicated Foot Bath, Various Medicinal Soup. Nowadays, she has no need to take dialysis. As for dialysis, do not say goodbye but say farewell.