How To Eliminate Urine Protein From Non-Typical Membranous Nephropathy
2016-04-21 05:50
Name: Yu Xiaojuan
Gender: Female
Age: 41
Country: China
Diagnose: Membranous Nephropathy
Patient Word:
One of our patients sends a good news to us. She is a non-typical membranous nephropathy. In February, she accepted treatment for 20 days in our hospital and her 24-hour urinary protein quantity decreased to 0.77g from 4.15g. This news is that she takes re-checkup in her local hospital. Her urine protein is 0.06g.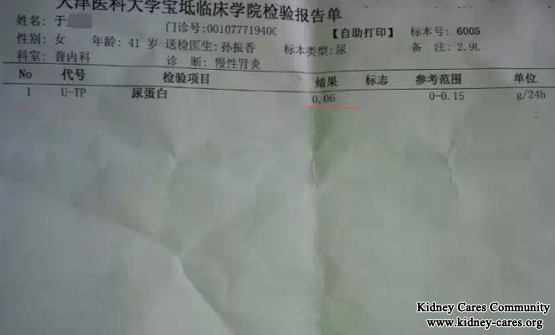 After our treatment, her kidney disease finally comes to an end.
Membranous nephropathy is mainly characterized by urine protein and swelling. The therapeutic effect is not so good if the patient only takes steroids. The common remedy is steroid combining with immunosuppressant. But this treatment plan also has its disadvantage. Because the disease is easy to relapse. Besides, cyclophosphamide will also affect reproduction.
Membranous nephropathy is a pathological change in which a large number of immune complexes deposit in glomerular capillary loops epithelial side. Situs immune complexes are formed when anti-body phospholipase A2 combine with antigen sertoli cell. Then by way of bypass channels to activate complement, C5b-9 membrane attacking complexes are formed, which will damage sertoli cell and injure glomerular filtration barrier. In this condition, urine protein occurs.
Immune complex is the root cause of membranous nephropathy. If the treatment only inhibits immune inflammatory reaction caused by immune complexes but does not cleanse immune complexes timely, the therapeutic effect will not be good.
In our hospital, we use immunotherapy to remove immune complexes and repair the damaged kidney functions, rather than just using some medicines. For the cause to cure disease, membranous nephropathy will be controlled more effectively.