I See The Hope In The Treatment Of Kidney Failure
2016-04-21 05:46
Name: Ms Liu
Gender: Female
Age: 59
Country: China
Diagnose: Chronic Kidney Failure
Patient Word:
In April 2008, Ms Liu suffered from swelling in eyelids and lower limbs. At that time, she did not pay attention to it and just have a rest. And her swelling disappeared quickly after her rest so she did not take any diagnosis and treatment.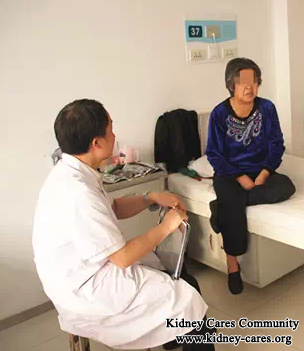 In March 2015, she suffered from nausea and vomiting. She went to hospital for examination. The lab reports showed blood pressure is 145/90mmHg, urine protein is 1+, occult blood is 1+ and serum creatinine level is 611umol/L. She was diagnosed with chronic kidney failure. The doctor prescribed niaoduqing particles and recommended hemodialysis for her. But she refused that.
To get treatment, she went to city people hospital and she was given haikun shenxi capsule, Nifedipine delayde-release tablets and folic acid tablets for treatment. One month later, she went to hospital for reexamination. Her serum creatinine level became 652.39umol/L.
Ms Lis comes to our hospital for treatment.
As for the treatment of chronic kidney failure, it should start from hemodialysis. Her local doctor recommends hemodialysis since there are lots of toxins in blood. Hemodialysis can cleanse some toxins from the blood. But Ms Liu is not willing to take dialysis so she is looking for alternative remedies to purify blood.
Actually the process of purifying blood is "Qu Duxie". Chinese medicine has good therapeutic effect on this. Oral taking Chinese medicine, hot compress therapy, steaming therapy, foot bath, medicated full bath, circle therapy and enema therapy can remove toxins from different angles and parts.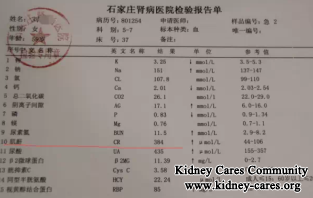 Chinese medicine is a good option for those who reject dialysis.
In fact, reducing creatinine is not enough to treat kidney failure completely. The key point for chronic kidney failure is to protect and recover kidney function.
As long as you stop kidney cells from continuous necrosis and protect residual kidney function, renal ischemia and anoxia state is improved, kidney failure can be treated effectively and radically.