Chinese Medicine Treatment Lower High Creatinine Level Instead Of Dialysis
2016-04-21 05:46
Name: Ms Tu
Gender: Female
Age: 40
Country: China
Diagnose: Chronic Kidney Dysfunction
Patient Word:
Hemodialysis is a common method used to treat kidney disease. Its main function is to cleanse harmful and small molecular substances in blood. Therefore, patients in kidney failure or uremia stage often take dialysis.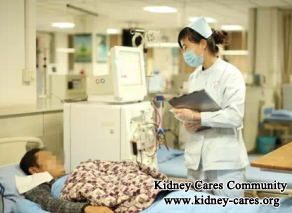 Patients tend to have dependence to dialysis so most people reject dialysis. They do not want to take dialysis for their rest of life.
Why does dialysis result in dependence?
The reason is very simple. Dialysis indeed can cleanse small and harmful substances from the blood but it cannot stop their regeneration so regular dialysis is necessary to remove harmful substances. This is called dialysis dependence. What's worse, dialysis will worsen kidney function and speed up kidney shrinkage.
Is dialysis the only way for purifying blood?
Of course not. High serum creatinine level is only clinical symptom of kidney dysfunction. Its root cause is kidney damage or dead kidney cells. However, most patients think that as long as high serum creatinine is lowered, kidney failure is cured. It is not correct. Only kidney function is improved can high creatinine level be lowered naturally.
Let's see the following case.
Ms Tu in 2012 suffered from swelling in eyelids and lower limbs. In her local hospital, she was diagnosed with chronic kidney dysfunction associated with urine protein 3+, occult blood 2+ and serum creatinine 210umol/L. She was under treatment of corbrin capsule, Haikun Shenxi capsule and Nifedipine sustained release tablets. But this treatment plan had little therapeutic effect. She went to hospital again in 2014 due to. At this time, her creatinine level was 710umol/L-uremia stage. From then on, she began dialysis once a week. But Ms Tu found that urine output became less and less after 4 months' dialysis. She was introduced to our hospital by one of her friends.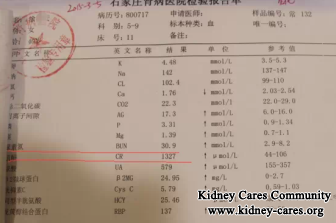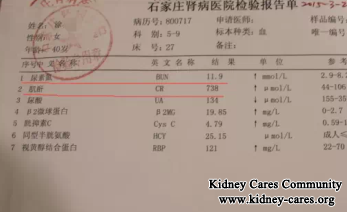 Blood purification must be on the basis of protecting and recovering kidney cells, otherwise it is in vain.
Dialysis is necessary when high creatinine level is high. This can win some time to repair kidney damage and improve renal function.
To improve renal ischemia and anoxia state, we use hot compress therapy, oral Chinese medicine and Mai Kang mixture to improve your whole body's microcirculation. To purify blood, we use medical foot bath, steaming therapy and medicated bath to detoxify toxins. All in all, our Chinese medicine treatment help recover kidney's own function to purify blood so that high serum creatinine level can be lowered.