How To Eliminate Urine Protein In Nephrotic Syndrome
2016-04-21 05:45
Name: Mr Luo
Gender: Male
Age: 24
Country: China
Diagnose: Nephrotic Syndrome
Patient Word:
In March 2008, Mr Luo was diagnosed with Nephrotic Syndrome (NS). His urine protein is 3+ and 24-hour urine protein quantity amounts to 7.6g. Plasma-albumin is 15g/L.
His local doctor told him primary nephrotic syndrome is easy to be treated because kidney function has not been damaged. Steroids can be used to treat this disease.
Why did the doctor say steroids can control urine protein?
The function of steroids is to inhibit the immune. In the inflammatory response stage, steroid can block this inflammatory response and kidneys also have compensatory ability. In this way, urine protein decreases or even disappears temporarily. But once steroid dosage is reduced, urine protein will appear again. Urine protein relapses again and again. Mr Luo suffers from this for over 7 years.
Why does urine protein relapse again and again?
The main function of steroids is to inhibit immune response. Once steroid dosage is reduced or patients suffer from infection like cold, immune response will appear again.
How does kidney disease occur?
When bacteria and virus invade our bodies, our own antibodies will fight against with them. This battle is called immune response. The result of this battle will produce lots of immune complexes. These immune complexes will come to kidneys with blood and then deposit in kidneys. In order to cleanse these foreigners, immune response becomes more intense. Immune response will occur in kidneys and blood.
Steroid can stop immune response and block further damages on kidneys. But immune complexes cannot be removed out of the blood and kidney. This is the reason why immune response appears again once steroid dosage is decreased.
How does our hospital remove immune complexes?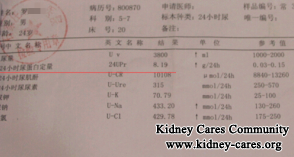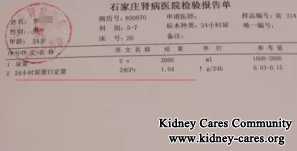 In Shi Jiazhuang Kidney Disease Hospital, we use Chinese Medicine Treatments such as Oral Chinese medicine, external application therapy, medicated bath therapy, foot bath therapy and enema therapy to expel toxins from your blood. When blood is purified, kidney disease can be treated from the root. Then steroids can be used to eliminate immune response to consolidate the curative effect.