Nephrotic Syndrome Relapse 7 Times Within A Year
2016-04-21 05:44
Name: Jin Ze
Gender: Male
Age: 6 Years Old
Country: China
Diagnose: Nephrotic Syndrome
Patient Word:
Jin Ze is a 6-year-old body but he has been on a sick list. Within a year, his disease has got relapsed for 7 times.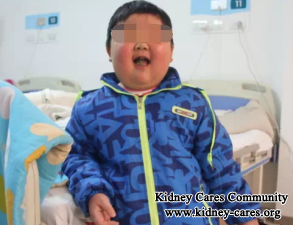 Last year, Jin Ze had swelling on his eyelids and then the swelling spread to his whole body. His parents took him to the hospital. The lab reports show that urine protein is 3+, urine occult blood is -, 24-hour urinary protein quantity is 6.3g and plasma-albumin is 13.3g/L. He was diagnosed with primary Nephrotic Syndrome.
The doctor gave him Prednisone Acetate Tablets. After 6 days treatment, his swelling disappeared, urine protein decreased to 1+, 24-hour urinary protein quantity decreased to 0.9g. Then he was discharged from the hospital. But 4 days later he got swelling again and he went to hospital again. He was treated by methylprednisolone sodium succinate for 15 days. Swelling disappeared and urine protein got negative.
In the next days, Jin Ze takes methylprednisolone sodium succinate for consolidation. However, within a year, his disease gets relapsed 6 times. In addition, side effects of steroids are more obvious. His grandfather wants his grandson to get further treatment so Jin Ze comes to our hospital-Shi Jiazhuang Kidney Disease Hospital.
Why does Nephrotic Syndrome relapse 7 times in a year?
Steroid treatment has become a common therapy for nephrotic syndrome. But the problem is that steroid cannot treat it.
Why? Let's see the causes of kidney disease.
When lots of toxic and harmful substances invade your body, autoimmune system will fight against them. This is called Immune Inflammatory response, which will form immune complexes. Immune complexes will flow with blood and be filtered by kidneys. Then they will be excreted from the body.
Immune inflammatory reaction will do some damages to kidney nephrons. What's worse, some immune complexes will deposit in kidneys, which will cause ischemia and anoxia of renal cells and also lead to intense immune inflammatory response. Renal cells will be injured directly.
The function of steroid is to inhibit immune inflammatory response. Although immune inflammatory response is blocked, immune complexes do not disappear. Therefore, once steroid dosage is reduced, nephrotic syndrome will relapse quickly. In addition, steroid will lower your own immunity and kidney disease patients are easy to get infected like cold so that more immune complexes are formed.
From the above, we can see steroid cannot treat kidney disease. It only can alleviate the disease.
How does our hospital treat Nephrotic Syndrome?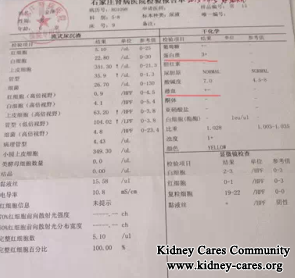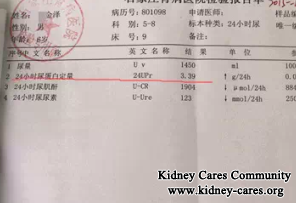 The key treatment for kidney disease should cleanse immune complexes. Immune complexes in blood and in kidneys should all be removed. Since steroids cannot cleanse immune complexes, we use Chinese Medicine Treatment to remove immune complexes. Oral Chinese medicine, external therapy, foot bath therapy and enema therapy all can detoxify toxins. What's more, they can also recover kidney microcirculation and improve renal ischemia and anoxia state.