Can You Treat My Kidney Failure Without Dialysis
2016-04-21 05:43
Name: Apnulfo
Gender: Male
Age: 50
Country: Philippines
Diagnose:
Patient Word:
Apnulfo is an engineer from Philippines and he is 50 years old. On 26th March, he and his wife come to our hospital. When seeing our doctor, his first word is "Help me and I cannot bear dialysis any more......"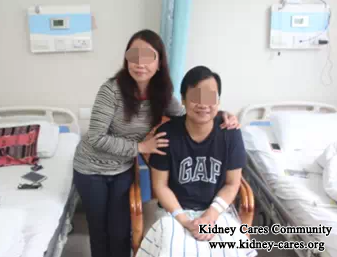 Arnulfo was diagnosed with kidney disease in 2012. At that time, he had dizziness. At his local hospital, his blood pressure is 180/110mmHg, hemoglobin is 85g/L, urine protein is 2 +, urine occult blood is 2+, serum creatinine level is 1189umol/L and urea nitrogen is 38.9mmol/L. He was diagnosed with chronic kidney failure. He was prescribed to Amlodipine Besylate Tablets. Besides, he also took dialysis three times a week. Up to now, he has undergone dialysis for three years. But his blood pressure has no decline and serum creatinine level is still higher than 1000umol/L. After three years of dialysis, his urine output becomes less and less and his kidney function is worse and worse. To get further treatment, under the accompany of his wife, he comes to China.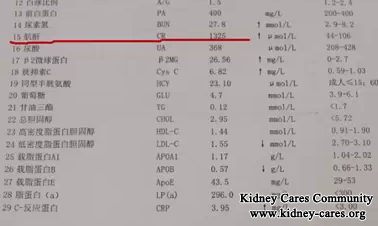 When he comes to our hospital, his serum creatinine level still amounts to 1325umol/L.
Why serum creatinine level has no decline after three years of dialysis? Because dialysis is a kind of method to purify your blood. Although it can cleanse small molecular substances in blood efficiently like creatinine but it cannot stop it regeneration so creatinine level is still high.
During the treatment of kidney disease, cleansing toxins in blood is the core and basic aspect, but it is not the only content. It is also very important to improve environment of kidneys.
Take Arnulfo's condition for an example, his high blood pressure is renal hypertension. This indicates that his renal arterioles has been damaged severely. Why hypotensive medications has no effect on lowering his blood pressure? It is because his kidney microcirculation of kidneys has not got improvement. Renal ischemia and anoxia state also stops the recover of kidney function.
After one month of treatment, his serum creatinine level decreases to 936umol/L from 1325umol/L. Although it is still in uremia stage, it also makes him very happy.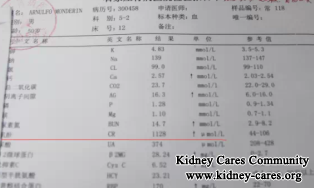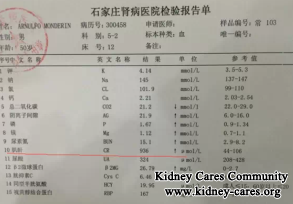 How do we make it?
We use another method to cleanse toxins in blood. This is Chinese Medicine treatment.
As for toxic and harmful substances in blood, there are many Chinese medicine treatments such as Medicated Bath, Enema Therapy, Steaming Therapy, Circle Therapy and Foot bath, etc.
Chinese medicine treatment can improve micro-circulation. When microcirculation in kidneys is improved, it makes sure the supply of blood, oxygen and nutrients for kidneys. It not only stop the further decline of kidney function but also recover kidney function.