Say Goodbye To Uremia
2016-04-21 05:43
Name: Mr Hu
Gender: Male
Age: 32
Country: China


Diagnose: Uremia
Patient Word:
Uremia is called immortal cancer and is a chronic disease which can bring down the whole family. On one hand, it has costly treatment but it is difficult to be cured. On the other hand, the medical condition is very severe but there is no danger to their life.
At present, the main treatment for uremia is hemodialysis and symptoms control. Kidney transplant will not be done until kidney function cannot maintain normal requirement.
This treatment plan for uremia is very common so dialysis even becomes the essential means for uremia. Patients are not willing to take dialysis but they also think it is not formal therapy without dialysis.
What is the function of dialysis?
Case 1: Mr Hu with creatinine level 1100umol/L gets rid of dialysis successfully.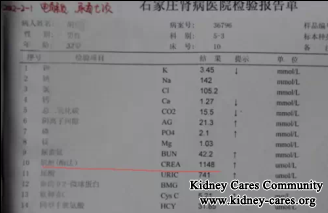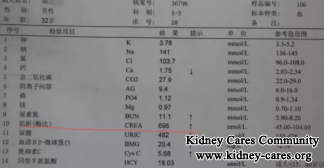 Mr Hu from Gui Zhou Province is a uremia patient. His creatinine level is 1100umol/L. His local doctor arranges him to take dialysis three times a week. But after half of a year's treatment creatinine has no obvious decline.
He comes to our hospital-Shi Jiazhuang Kidney Disease Hospital. His serum creatinine level is 1148umol/L and urea nitrogen is 42.2umol/L.
Why there is no improvement after half of year's dialysis.
The reason is very simple. Dialysis indeed can cleanse small moleculars substances like creatinine in the blood but it cannot stop their regeneration. What's worse, long term of dialysis will speed up kidney shrinkage and kidney function will decline further.
But in our hospital, we use Blood Cleaning and Detoxification Therapy to remove wastes and toxins in blood. This is a radical way for uremia. Mr Hu's serum creatinine level is reduced to 694umol/L and then is discharged from our hospital.
Case 2: How to treat uremia without dialysis?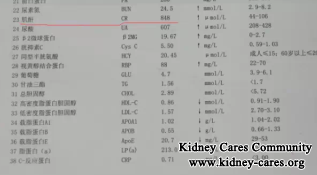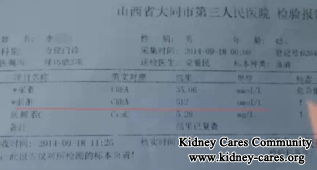 Mr Li from Shan Xi Province is also a uremia patient. He rejects dialysis strongly. His serum creatinine level is 848umol/L but he does not want to take dialysis so we use Chinese medicine for his disease.
In fact, as for cleansing toxic and harmful substances in blood, the curative effect of Chinese medicine is better than dialysis. A month later, his reports in his local hospital show serum creatinine level has reduced to 512umol/L. This is a relatively safe range.
Simply speaking, the key point for uremia should include two aspects:
On one hand, remove toxic and harmful substances depositing in kidneys
On the other hand, cleanse toxic and harmful substances in blood and protect kidney function
Our Chinese medicine can achieve the goal of both. Oral medicine, external application, steaming therapy, foot bath and medicated bath can cleanse toxins in the body through different acupoints. In addition, we also create Interventional Therapy. The medicines can come to kidney lesion directly with the help of ultrafine catheter.
In summary, our Chinese medicine treats uremia from root. Only in this way can patients have obvious improvement.